In June 2015, SpaceX CEO Elon Musk said at a Tesla Inc. (Nasdaq: TSLA) shareholder meeting he intends to keep SpaceX private until its long-term goal of sending people to Mars begins. That's not expected until 2020 at the earliest, meaning investors shouldn't expect a SpaceX IPO until then.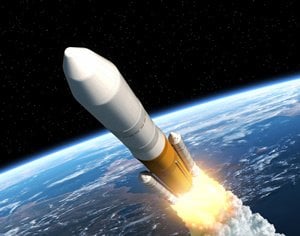 Once the company goes public, however, the SpaceX stock price will likely depend on the firm's ability to keep reusing rockets...
SpaceX was the first company to ever successfully launch and land a reusable rocket. That's important to potential investors because reusing rockets could reduce the cost of access to space "by as much as a factor of a hundred," according to Musk.
And SpaceX's ability to cut costs and turn a profit will determine how high the SpaceX stock price will go once it's public. Here's exactly why reusing rockets is essential to a higher SpaceX valuation, plus we'll show you the best way to profit from the SpaceX IPO after it goes public...
How Reusable Rockets Could Shape the Value of the SpaceX Stock Price
After accomplishing the first-ever launch of a reusable Falcon 9 rocket - the company's signature rocket used to ship supplies to the International Space Station (ISS) - on March 30, Musk embraced reusing rockets as the most cost-efficient way to get people to Mars.
"If one can figure out how to effectively reuse rockets just like airplanes, the cost of access to space will be reduced by as much as a factor of a hundred," he said on the company website. "That really is the fundamental breakthrough needed to revolutionize access to space."
Sign up for SMS so you never miss special events, exclusive offers, and weekly bonus trades.
Reusing a Falcon 9 refers to reusing its booster - the main engine of the rocket responsible for launching it into orbit. SpaceX is currently working on being able to recover and refurbish these boosters after their launches so the company can reuse them in future launches.
So far, SpaceX has only successfully launched three reused Falcon 9 boosters - the first on March 30 and two back-to-back launches on June 23 and June 25. While not all of SpaceX's boosters are reusable yet, Musk hopes to eventually launch each Falcon 9 with the intention of reusing its booster for a later launch.
Customers like the ISS and NASA pay $62 million for each non-reusable Falcon 9, according to the SpaceX website. But since Musk says a Falcon 9 booster makes up about 70% of the rocket's total production cost (note: SpaceX has not disclosed the total production cost of a Falcon 9), SpaceX would be able to reduce its costs and that $62 million price tag for clients by being able to reuse its boosters.
For example, it only costs around $200,000 to fuel each launch, according to the firm's website. That's roughly 0.4% of the $62 million launch price tag for clients - an indication of the cost-cutting potential of reusable rockets.
By reducing launch costs, the company will be both attracting more customers to buy launches for cheaper and saving millions since they won't need to construct an entirely new rocket for each launch.
And by saving millions on each launch by reusing boosters, SpaceX would be able to turn a profit again...
According to a report from The Wall Street Journal based on financial documents provided by former SpaceX employees, the company lost $250 million in 2015 despite launch revenue coming in above $900 million, as you can see in this chart...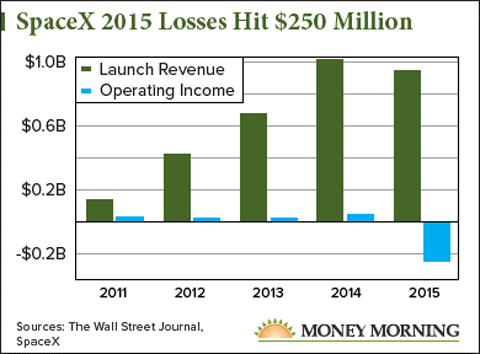 Whether or not the company is able to maintain long-term reusability before the IPO, investors will still be eager to buy SpaceX stock when it first comes to market...
As of July 2017, SpaceX is the 10th highest-valued private company in the world, with a $1.1 billion valuation. Not to mention, SpaceX's goals of monetizing space travel could excite investors into buying the stock when it's available.
Trending: The 8 Most Anticipated IPOs of 2017
But you don't have to wait for SpaceX to go public to profit from the excitement around new IPOs. That's why Money Morning Director of Technology & Venture Capital Research Michael A. Robinson - a 34-year veteran of Silicon Valley who's worked as a consultant for venture capital firms - is recommending an investment that will let you profit from IPOs in 2017.
Here's how you can make money from newly public companies without the risk of buying in on day one...
The Best Investment for Making Money from New IPOs in 2017