(Kitco News) - Global markets were mixed to weaker overnight. U.S. stock indexes are pointed toward slightly lower openings when the New York day session begins.
Gold prices are higher in pre-U.S.-session trading. The yellow metal bulls have gained upside momentum recently, to suggest a near-term market bottom is in place.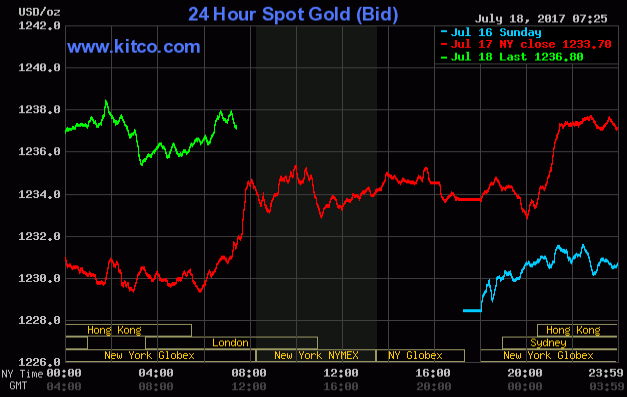 In overnight news, the Trump administration was dealt another major blow when Republican lawmakers pulled from consideration their latest health care reform package. The health care reform failure now calls into serious question the success of any other big initiatives that Trump has promised to push through Congress. The U.S. dollar index dropped sharply on the news.
In other news, the closely watched German ZEW economic expectations index came in at 86.4 in July versus 88.0 in June.
The U.K.'s annual consumer price inflation was reported at 2.6% in June, which is lower than the forecast rate of 2.9%.
The "outside markets" on Tuesday morning see Nymex crude oil futures slightly higher and trading just above $46.50 a barrel. Recent upside price action suggests a market bottom is in place.
Meantime, the U.S. dollar index is solidly lower early today and hit another 10-month low. The U.S. Republican party's failure to get a new health care package passed through Congress is weighing heavily on the greenback today. The dollar bears have the solid overall near-term technical advantage amid a price downtrend that has been in place all year long.
U.S. economic data due for release Tuesday includes the weekly Goldman Sachs and Johnson Redbook retail sales reports, import and export prices, the NAHB housing market index, and Treasury international capital data.
By Jim Wyckoff, contributing to Kitco News; jwyckoff@kitco.com
Follow Jim Wyckoff @jimwyckoff for breaking news.