Our latest list of stocks to watch now includes three high-profile, game-changing companies.
First, a media pioneer posts stunning second-quarter results.
Then, the meal-kit delivery field just got awfully crowded.
And finally, the rollout of a highly anticipated electric car has done surprisingly little for its company's stock price.
Stocks to Watch Now No. 1: Despite Emmy Nods and Subscriber Growth, Netflix's Cash Flow Is Cause for Concern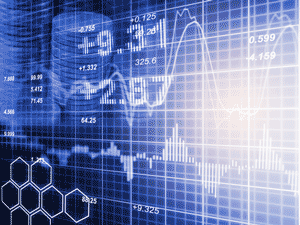 Netflix Inc. (Nasdaq: NFLX) stock surged to an all-time high on Tuesday after reporting 5.2 million new subscribers in the second quarter, beating estimates by a stunning 2 million.
Wall Street has always cared more about subscriber numbers than EPS estimate-beating when it comes to Netflix stock. NFLX jumped 13.5% on Tuesday, closing at $183.60. It's now up over 50% in 2017.
The subscriber gain brought total subscribers for the streaming video service past the 100 million mark. The stellar numbers were especially surprising because the second quarter is typically Netflix's slowest. Growth in international markets, which accounted for 4.1 million of the new subscribers, drove the big gains.
Revenue for the quarter was $2.79 billion, beating estimates of $2.76 billion. Earnings per share missed estimates, coming in at $0.15 compared to an expected $0.16.
Netflix original content landed 91 Emmy nominations last week, twice as many as last year. Science fiction series "Stranger Things" led the way with 18 nominations.
That success, though, has come at a cost.
Netflix's budget for content in 2017 is an eye-popping $6 billion. That dwarfs what streaming competitors Amazon and HBO spend on original programming.
The spending spree has some investors worried. Netflix expects a negative free cash flow between $2 billion and $2.5 billion in 2017. In April, the company told shareholders that negative cash flow will continue for "many years" as it splurges on its content library.
Is the gamble worth it? Money Morning Chief Investment Strategist Keith Fitz-Gerald is wary. He urged caution on Netflix in May, saying that it was "only a matter of time before the company's business model runs out of mojo because it's a one-trick pony."
Stocks to Watch No. 2: A New Trademark Application Proves That There's No Such Thing as an Amazon-Proof Retailer
Amazon.com Inc. (Nasdaq: AMZN) is proving to be quite the stick in Blue Apron Holdings Inc.'s (NYSE: APRN) side.
After Amazon's $13.7 billion acquisition of Whole Foods Market Inc. (Nasdaq: WFM) in June, Blue Apron was forced to slash its target IPO price by a third. Investors anticipated that Amazon would use the merger to enter the meal-kit delivery market – Blue Apron's bread and butter.
That speculation was confirmed this week.
A July 6 trademark application by Amazon Technologies Inc., a subsidiary of the online retail giant, indicated that it was planning to sell "prepared food kits composed of meat, poultry, fish, seafood, fruit and/or vegetables … ready for cooking and assembly as a meal."
The trademark, if granted, would be for the service's tagline: "We do the prep. You be the chef."
Must See: Get $45,000 Worth of Our Best Stock Research for Just Pennies a Day. Read More…
That's not all. It turns out that Amazon Meal Kits have already been available for weeks – but only for select customers. Josh Chadd of Seattle, where Amazon is headquartered, told GeekWire that he tried one of the kits offered through the site's subscription grocery service, Amazon Fresh.
He rated the meal a "nine of out 10."
This is bad news for Blue Apron, whose stock was trading at $6.72 on Wednesday afternoon, well below its $10 IPO offering in late June. The company had initially expected to sell shares at $15 to $17.
Keith Fitz-Gerald warned readers in April that there's no such thing as an "Amazon-proof" retailer, "and any investor who makes the mistake of thinking there is may as well take his or her money to Vegas where at least they'll have fun losing it."
In fact, Keith has been recommending Amazon to readers for years now. And this week he dismissed concerns over antitrust talk heating up.
"It's Amazon versus everybody else," he said. "Longer term, that means there is more upside than downside ahead no matter what the government does."
AMZN currently trades at $1,028.98. The stock is up 14.3% over the last month and 36.7% in 2017.
Stocks to Watch No. 3: Tesla's Future Goes Far Beyond Its New Mass-Market Electric Car
The first of Tesla Inc.'s (Nasdaq: TSLA) long-awaited Model 3 electric cars came off the assembly line on July 7, and the first deliveries begin July 28. Those who didn't put down $1,000 in advance will have to wait a while – the California automaker received 400,000 deposits.
The Model 3 retails at $35,000, a steep drop from the $100,000-plus price tags for earlier Tesla models. Most U.S. buyers will qualify for a $7,500 federal tax credit, and possibly state tax credits too.
The fully electric vehicle travels up to 215 miles on a full charge.
In spite of the highly anticipated release, Tesla stock has fallen over 14% since hitting an all-time high in late June.
Shareholders looking for reassurance were disappointed on Saturday when CEO Elon Musk said the stock price is "higher than we have any right to deserve."
Two days later Musk took to Twitter to clarify his statement: "Tesla stock is obviously high based on past & present, but low if you believe in Tesla's future. Place bets accordingly."
There's plenty of reason to be excited about Tesla's future, and its auto business is just the beginning. As Keith Fitz-Gerald wrote in May, Musk's aim is not just to manufacture cars but to "redefine the electric grid and, with it, the world's energy supply." Those who don't understand this and get on board, Keith says, will be left behind.
Money Morning Global Energy Strategist Dr. Kent Moors reiterated this week that Tesla is best seen not as a car company but an energy company. In early July, Tesla announced a plan to build the world's largest lithium-ion battery in South Australia. When completed, the battery will be powerful enough to provide electricity to 30,000 homes and will increase energy security in an area that has been plagued by blackouts.
Kent calls it "an absolute game changer," and it's another reason to believe in the company's future.
Place bets accordingly.
For those following along with our Money Morning Top 10 Outperformers, here's the latest list: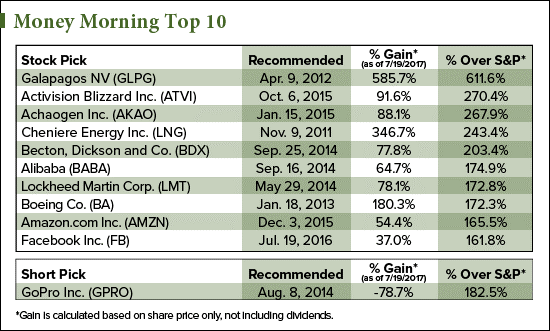 Up Next: One gallon of this new "crystal fuel" could get you from New York to L.A. and back… seven times! Being hailed by many experts as energy's "Holy Grail," it's 1,693 times more powerful than the gasoline that runs your car. The mainstream investment media isn't even talking about it yet. Read more…
Follow Money Morning on Twitter @moneymorning, Facebook, and LinkedIn.
Join the conversation. Click here to jump to comments…
About the Author
Stephen Mack has been writing about economics and finance since 2011. He contributed material for the best-selling books Aftershock and The Aftershock Investor. He lives in Baltimore, Maryland.