The U.S. is arming Taiwan – and it's doing it to get China's goat.
On June 27, the Trump administration approved a $1.4 billion arms sale to the small island country. Included in this deal were high-speed anti-radiation missiles, torpedoes, and various missile components.
The transaction, of course, made China mad…
As it was supposed to.
Chinese Ambassador to the U.S. Cui Tiankai announced on June 29 that the "U.S. arms sales to Taiwan… damaged the basis and mutual trust between the two countries," reported Fortune.
But Beijing shouldn't be surprised by Uncle Sam's bully tactics.
We've been hinting at this kind of outcome for a while.
Here's why…
The U.S. Is Arming Taiwan Because China Won't Disarm North Korea
You see, the White House has lost patience with Beijing's soft stance on its aggressive neighbor, North Korea.
On June 20, President Donald Trump tweeted that while he appreciated Beijing's efforts, "it has not worked out."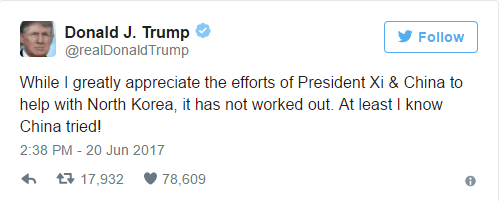 Indeed, the U.S.-China relationship has been wilting before our eyes.
One July 11, China lashed out in unusually strong terms at repeated calls from the United States to put more pressure on North Korea.
"Recently, certain people, talking about the Korean Peninsula nuclear issue, have been exaggerating and giving prominence to the so-called 'China responsibility theory,'" said Chinese Foreign Ministry spokesman Geng Shuang, according to Reuters.
Geng argued that China had been making unremitting efforts and had played a constructive role with respect to the North Korea issue.
"Asking others to do work but doing nothing themselves is not OK. Being stabbed in the back is really not OK," he added.
Meanwhile, the U.S.-Taiwan relationship has been flourishing.
As intended…
The Enemy of My Enemy Is My Friend
President Trump first started leveraging a U.S.-Taiwan relationship against China last year.
That's when he accepted a congratulatory phone call from Taiwanese President Tsai Ing-wen way back in December 2015 – a conversation that completely upended long-standing diplomatic protocol.
China doesn't recognize Taiwan as its own sovereign entity and, to keep the peace, the United States has taken China's side, if only for appearances' sake. The policy is known as the "One China" policy.
But during that conversation between Taiwan and America's leaders, Trump questioned the wisdom of the "One China" policy. According to Reuters on Feb. 9, the president told Tsai that "Washington didn't have to stick with that policy."
And that "questioning" drew a dramatic outcry from Beijing, who threatened on Jan. 9, 2017, to "take revenge" on the U.S. if it doesn't follow the policy.
That was back when Trump was calling China a currency manipulator.
President Trump later walked back his "One China" comments during Chinese President Xi Jinping's visit to his Mar-a-Lago Floridian estate in April, when their relationship became more amicable. And for a time, relations between the world's largest and second-largest economies were calm.
Then, the death of American student Otto Warmbier reminded the world that North Korea is still a dangerous and volatile power, and reminded Trump that China just hadn't done enough.
Just one week later, the arms deal with Taiwan was made. The United States immediately followed this deal up with a Senatorial vote on June 30 to allow U.S. naval ships to make stops at Taiwanese ports.
To Beijing, the Senate vote came off as a unanimous decision to take a more official position in the ongoing dispute between Taiwan and China. And that position did not align with what Beijing expects of Washington.
Beijing's Reaction Will Propel the Asian Arms Race
Unsurprisingly, China fired back at the United States on Monday (July 17) …
"China and its people have every right to be outraged," said Beijing's diplomatic spokesperson Lu Kang, according to ChinaEmbassy.org.
No one is denying China and its people the right to be outraged by U.S. interference in a long-standing and tense foreign policy situation. One could argue, however, that America and its people have every right to be outraged by China's support of a nuclear North Korea.
As tensions build, one industry will see massive profits: defense.
As Money Morning Executive Editor Bill Patalon told his Private Briefing subscribers last year, the Asian arms race is a technological race where stealth aircraft, aerial and seagoing drones, detection systems, and missile-interceptor know-how will just keep advancing.
Central to any defensive plans in the region will be Lockheed Martin Corp. (NYSE: LMT), developer not only of the THAAD system, but of nearly every defense system and weapons system the U.S. military employs.
Since Bill first recommended the stock in March 2016, its price has shot up over 28% – and it just saw a nice earnings beat on June 18.
Find out more about Private Briefing – and how you can get all of Bill's critical defense sector plays – right here…
Follow Money Morning on Twitter @moneymorning, Facebook, and LinkedIn.