Here at Money Morning, we work with a team of 11 investing and market professionals who have invested real money for themselves and others over the decades they've spent in their respective fields.
In fact, as a group, these folks have close to 300 years of boots-on-the-ground experience in energy markets, global investing, precious metals and resources, technology investing and venture capital, and trading.  
They've been brokers, traders, educators, engineers, soldiers, scientists, journalists, venture capitalists, government consultants, diplomats - a huge breadth of experience - and now they work for you to help make your investing more profitable.
And their recommendations have been profitable indeed.
Here are 10 of their very best picks. We always say we'll put our editors' research up against Wall Street's best anytime, and you'll see in a minute that these stocks have crushed the S&P 500's returns over the same time frame.
Here are three of the best, and you'll get a chance to check out the entire list a little further down - there's still a lot of upside left to run.
Some of Our Biggest Recommendations Ever
Sign up for SMS so you never miss special events, exclusive offers, and weekly bonus trades.
Galapagos NV (Nasdaq: GLPG) is undeniably our biggest winner so far, gaining 578.8% since Money Morning Executive Editor Bill Patalon shared his recommendation with our readers in April 2012 (although his paid-up subscribers following along have bagged more than 1,000%). The S&P 500 has gained 75.4% in the same time.

Bill has re-recommended Galapagos several times over the years, and each time the recommendation has preceded another bout of big profits. That's why in 2016 he said it has "an established history of piling on gains" - an average of 110% a year, in fact.

You can learn how to get all of Bill's recommendations every day, just like his paid-up subscribers, right here.  
When Money Morning Global Energy Strategist Dr. Kent Moors talked about the profit potential of Cheniere Energy Inc. (NYSEMKT: LNG) to our readers in November 2011, it had already risen 184% in just the previous month.

But Kent knew it wasn't done rising. He saw a "nice pop in share value" ahead as natural gas demand grew, and he was right - only that "pop" turned out to be a stratospheric rocket rider. Cheniere has risen 367.5% since then, compared to an S&P rise of 97.3%. Cheniere remains a leader in the natural gas industry. Kent's about much more than oil and gas, though. Right now, he's tracking a revolutionary "alternative" fuel source that could be worth $7 .2 trillion soon. You can check out his research here.
Activision Blizzard Inc. (Nasdaq: ATVI) was also on a tear in October 2015, having climbed 84% in the previous two years when Money Morning Director of Technology & Venture Capital Research Michael Robinson highlighted it for our readers. In the less than two years since, the video game designer is up another 80.8%. Activision boasts such blockbuster franchises as Call of Duty, World of Warcraft, and Candy Crush Saga, making it one of the top companies in the video game industry.

Right now, Michael's looking at some of the most potentially lucrative legal cannabis stock plays on the market. He says that's the one industry today with the innovation and drive that reminds him of the small Silicon Valley "upstarts" he covered back in the 1980s, like Apple Inc. You can learn how to get his list of the best 30 pot stocks right here.
Here's the full top 10 list of our most market-crushing stock picks, with performance measured as of the end of June 2017.
Any investor would do really well to go out and buy these today - as I said, don't let the huge gains already on the books put you off, because there's still plenty of upside to go.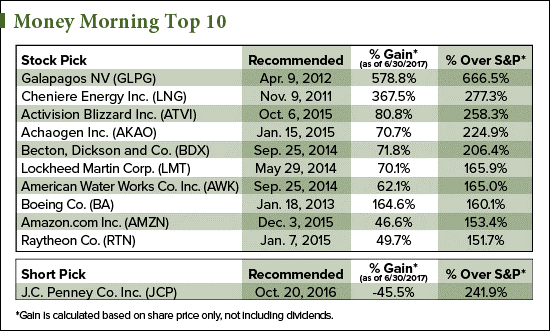 Now that you've seen just a little of what we do here, you're invited to learn a bit more about our flagship monthly service, the Money Map Report. Money Morning Chief Investment Strategist Keith Fitz-Gerald headlines it with a high-profit recommendation every month, and you'll hear from some of our editors, too, about the stocks they're looking at. Lots of the picks you've seen here appeared in the Money Map Report first. Right now, Keith is looking at one of the most potentially profitable U.S. market trends of the year. Click here to learn more...
Follow Money Morning on Twitter @moneymorning, Facebook, and LinkedIn.