Our latest list of stocks to watch now covers a slew of tech frontiers.
First, a solar energy leader continues its remarkable run.
Then, a $93 billion-dollar private equity fund makes its first moves.
And finally, a fallen biotech star may be poised for another breakout.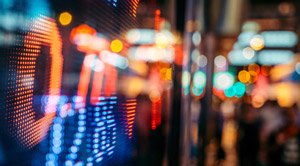 Stocks to Watch Now No. 1: JinkoSolar May Be Flying Close to the Sun, but It's Got Plenty of Energy
When we last checked in on JinkoSolar Holding Co. Ltd. (NYSE: JKS) on June 27, the stock had gained 12.6% in just under three weeks.
Since then, it's up another 37% and is now up 50% in the last month.
Shares in the Chinese solar manufacturer shot up 10% in just one day this week after the South Miami City Commission passed a measure requiring solar installations on all new homes. Three California municipalities have similar measures, signaling what may be the start of a new trend.
China has already installed 24 gigawatts of solar energy capacity in the first half of 2017. That's a record-setting pace, as is JKS's shipment of 2 gigawatts of solar modules in the first quarter.
JinkoSolar also announced a deal this week with Australia's Greatcell Solar Ltd. to study perovskite solar cell (PSC) devices with the goal of commercializing the technology.
Readers who took Money Morning Global Energy Strategist Dr. Kent Moors' recommendation in June have enjoyed 50% gains since then. We wouldn't blame anyone who wants to take those profits and run. But then again, given the long-term outlook, there's plenty of reason to believe that this stock can pay off for years to come.
"This is the premier solar company in the world," says Kent. "With global operation and good relations with the Chinese government, Jinko is perfectly positioned to continue growing."
Stocks to Watch No. 2: SoftBank's Massive Equity Fund Gets Its Feet Wet in California
The world's largest private equity fund is springing into action.
Vision Fund, led by SoftBank Group Corp. (OTCMKTS: SFTBY), announced investments this week totaling close to a half-billion dollars.
One of the beneficiaries was Brain Corp., which specializes in robotics technology. The San Diego-based company raised $114 million in a deal that also included Qualcomm Inc. (Nasdaq: QCOM), which will hold a seat on the board.
Another of Vision Fund's investments went to Plenty, a Bay Area agricultural company that SoftBank CEO Masayoshi Son says will "remake the current food system."
Must See: Marijuana stocks are seeing triple-digit gains, and the next wave of wealth is coming. Learn how you could turn a small $100 stake into a fortune. Read more…
Plenty plans to build indoor farms in LED-lit towers close to urban centers in order to reduce transportation and storage needs. CEO Matt Barnard says these farms will produce "hyper-organic food with no pesticides or GMOs while cutting water consumption by 99%."
These investments are just the beginning for Vision Fund, which has an unprecedented $93 billion to play with. Son has proven his ability to pick winners in the past with investments like his $20 million gamble on Alibaba Holding Group Ltd. (NYSE: BABA) back in 2000. His stake is currently estimated to be worth over $100 billion.
Money Morning Chief Investment Strategist Keith Fitz-Gerald told readers in May that not only can you benefit from a "foundational holding" like SoftBank, but you can also take advantage of Son's "Midas touch" by bringing pre-IPO tech companies into your portfolio. With so much money going around, venture capitalists are going to have to spend more for these startups across the board.
The Fidelity Contrafund (MUTF: FCNTX) has an outstanding track record and frequently invests in the types of companies that are bound to catch Son's eye. That makes it a great play for those looking to get in on the ground floor of some up-and-coming tech companies as SoftBank's fund makes its mark in the industry.
Stocks to Watch No. 3: A New FDA Approval May Be Gilead's Second Wind
Gilead Sciences Inc. (Nasdaq: GILD) was granted FDA approval this week for Vosevi, its newest treatment for patients with chronic hepatitis C. The drug is a triple combination, including two treatments that were already on the market plus the newly approved voxilapreviri.
Investors who got in on Gilead before its Sovaldi and Harvoni drugs hit the market were rewarded handsomely. The stock was trading around $20 at the beginning of 2012 and reached as high as $122 in mid-2015.
Then came the decline, as Gilead struggled to build on its lineup and the outlook for pricey pharmaceuticals dimmed. GILD was trading at $74.10 as of Friday. That's still a solid gain for those early investors, but many have wondered when the stock would find its bottom.
That bottom may have been reached, as shares have been fairly stable in 2017. Now, with a new drug on the market, Gilead may be ready to make another run.
Money Morning Director of Technology & Venture Capital Research Michael Robinson wrote on July 10 that Gilead is one of his top biotech bargains.
"Gilead is back in Wall Street's spotlight," Michael wrote, and added that both Barron's and Deutsche Bank have indicated that the stock "appears to have bottomed out and entered a new uptrend."
Keep an eye out for possible acquisition deals, too. Rumors have been swirling for months around possible targets for Gilead, which is sitting on $34.6 billion in cash and investments if it wants to make a move.
For those following along with our "Money Morning Top 10 Outperformers," here's the latest list: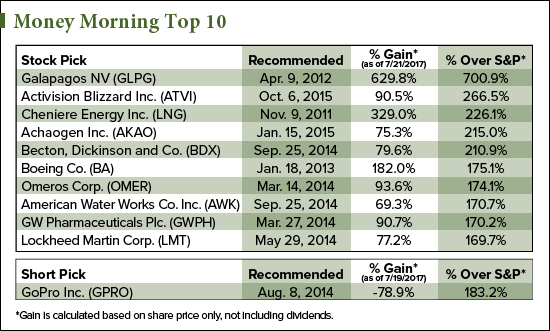 Up Next: One gallon of this new "crystal fuel" could get you from New York to L.A. and back… seven times! Being hailed by many experts as energy's "Holy Grail," it's 1,693 times more powerful than the gasoline that runs your car. The mainstream investment media isn't even talking about it yet. Read more…
Join the conversation. Click here to jump to comments…
About the Author
Stephen Mack has been writing about economics and finance since 2011. He contributed material for the best-selling books Aftershock and The Aftershock Investor. He lives in Baltimore, Maryland.