The silver price has bounced back strongly from its low over two weeks ago. The price of silver is coming off a strong 3.7% gain last week and is now up 7.4% to $16.51 from its July 7 low of $15.37. Not to mention, silver futures have suffered only one down day in the last 10 trading days.
The 7.4% rebound since July 7 has come in small increments, but it's been steady and stealthy. The average daily gain for silver prices since the July 7 low has been 0.6%, and that stealth growth may be most helpful for looking at where silver is headed in 2017. As silver climbs quietly higher, it continues to "feel" like sentiment is still against it.
Yet those are often the times when a price advance is the easiest to achieve, because it goes mostly unnoticed, bringing along fewer bulls for the ride higher.
I'm one of those bulls, which is why I'm going to share my bold silver price prediction with you today.
But first, let's look at the price of silver's big week last week…
Silver Price Rises 3.7% on the Week (July 14 – July 21)
After closing at $15.88 on Friday, July 14, the silver price opened Monday, July 17, higher at $16.11. Although it trended lower throughout the day, the metal still closed at $16.08 for a 1.3% gain on the day.
And that set the positive upward trend for the rest of the week…
On Tuesday, silver benefited from accelerating dollar weakness. As the U.S. Dollar Index (DXY) fell from 95.13 to 94.60 by Tuesday's close, silver prices climbed throughout the day to peak at $16.28. Silver prices eventually settled 1.1% higher at $16.26.
Here's a snapshot of the DXY's day-to-day movements last week…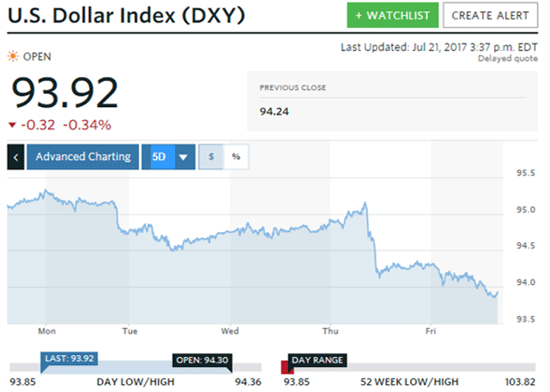 Some overnight weakness caused the price of silver to open lower at $16.25 on Wednesday. Although it reached a high of $16.31 that morning, it eventually closed the day at the opening $16.25 price, marking a small 0.1% loss from the Tuesday close of $16.26.
Rare Gold Anomaly: A completely unique gold play is forming in the markets. If you get in now, you could see a share of upwards of $13 billion in cash windfalls. Learn more…
Thursday brought more of the same action, with silver weakening in early morning trading to bottom at $16.16 by 8 a.m. But buyers came in strong later that morning as the dollar sold off hard, falling an astounding 100 basis points to the 94.25 level by 11:30 a.m. That pushed the silver price to $16.30 by the close for a 0.2% rise on the day.
On Friday, July 21, silver rallied to $16.40 in the morning as the DXY fell lower to 94.20. As it fell below the 94 level, silver prices leaped to $16.50 by the end of the session. That marked a 1.2% gain on the day and a 3.7% gain on the week.
And the price of silver today (Monday, July 24) is up another 0.1% and trading at $16.51. If it closes above $16.50 today, the metal will have seen its seventh straight session of gains.
With last week's 3.7% rally, investors are anxious to know if the metal will keep moving higher. Despite possible short-term price pullbacks based on dollar fluctuations, I think the silver price has plenty more room to run in the second half of 2017.
Here are my bold silver price targets for the rest of the year…
Why Silver Prices Could Hit These Bullish Targets in 2017
Join the conversation. Click here to jump to comments…
About the Author
Peter Krauth is the Resource Specialist for Money Map Press and has contributed some of the most popular and highly regarded investing articles on Money Morning. Peter is headquartered in resource-rich Canada, but he travels around the world to dig up the very best profit opportunity, whether it's in gold, silver, oil, coal, or even potash.