The Nasdaq winning streak we broke on Thursday, July 20 – 10 straight "up" days – was the longest streak in more than two years. It was the 20th time the Nasdaq had pulled such a feat since 1980.
Over those 20 instances, after one month, the index was up 80% of time with an average gain of 2.6%.
What this is, is more potent fuel for the "market that just won't go down" theme.
Lots of forces have come together to provide us with the grinding bull market. And one characteristic of this market has been that pullbacks have been very small.
For all of 2017, now more than half over with, the biggest pullback we've had in the S&P 500 has been a miniscule 2.8%.
While there's still a lot of time left in this year, an intra-year drawdown this small is almost unprecedented.
In 1995, as that long-term bull market was hitting its stride, the intra-year drawdown was 2.5%.
Dating back to 1928, there has only been one other year with a sub-4% drop.
That was 1964 with a 3.5% drawdown.
And that brings us to another important streak.
This Puts the Rally in Context… and It's Striking
The folks over at Pension Partners put together a chart showing the longest streaks that the S&P 500 has had without having so much as a -5% drawdown.
We're currently at 269 trading days and counting – which means we've gone over a calendar year without a 5% pullback.
That's the longest streak since 1996: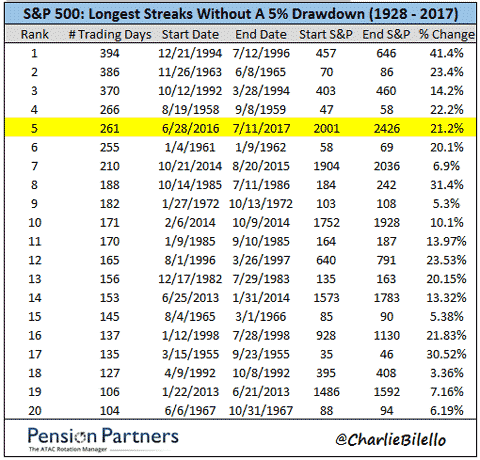 Low volatility
Small pullback
Short-term strength in the Nasdaq
Indexes at or near all-time highs
These are all characteristics of what happens when markets are going to grind higher.
Join the conversation. Click here to jump to comments…
About the Author
D.R. Barton, Jr., Technical Trading Specialist for Money Map Press, is a world-renowned authority on technical trading with 25 years of experience. He spent the first part of his career as a chemical engineer with DuPont. During this time, he researched and developed the trading secrets that led to his first successful research service. Thanks to the wealth he was able to create for himself and his followers, D.R. retired early to pursue his passion for investing and showing fellow investors how to build toward financial freedom.