(Kitco News) – World stock markets were mostly firmer in subdued trading overnight, as the marketplace awaits today's FOMC meeting conclusion. U.S. stock indexes are slightly higher just ahead of the New York day session.
Gold prices are moderately lower today on more profit-taking from the shorter-term futures traders, after recent price gains.
Traders and investors are awaiting the conclusion of the Federal Reserve's Open Market Committee meeting (FOMC) that began Tuesday morning and ends early this afternoon with a statement. No changes in U.S. monetary policy are expected. However, the Fed could indicate the timing of reducing its big balance sheet of U.S. securities. The tone of the FOMC statement will also be important for markets. Just recently Federal Reserve Chair Janet Yellen has sounded a more dovish tone on U.S. monetary policy.
In overnight news, the U.K.'s second-quarter GDP came in at up 0.3% on the quarter and up 1.7%, year-on-year. Those numbers were right in line with market expectations.
The "outside markets" on Wednesday morning see Nymex crude oil futures firmer. Prices Tuesday hit a six-week high and the market is in a near-term uptrend. Meantime, the U.S. dollar index is near steady as the greenback tries to stabilize after hitting a 13-month low on Tuesday.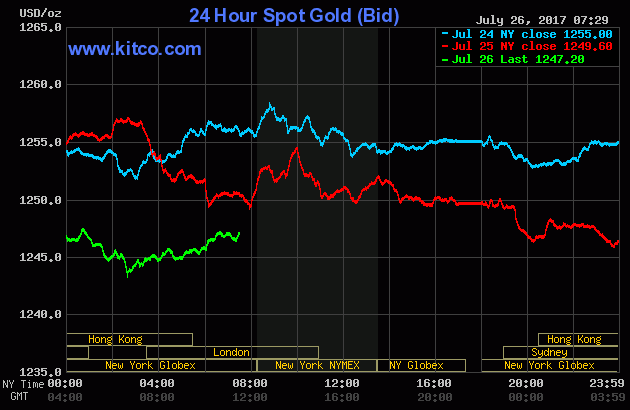 Other U.S. economic data due for release today includes the weekly MBA mortgage applications survey, new residential sales, and the weekly DOE liquid energy stocks report.
By Jim Wyckoff, contributing to Kitco News; jwyckoff@kitco.com