Blue Apron Holdings Inc. (NYSE: APRN) stock has been trading for about a month, and a slew of bullish Wall Street ratings and Blue Apron stock price predictions were just released. However, Money Morning experts believe those predictions are dangerously wrong...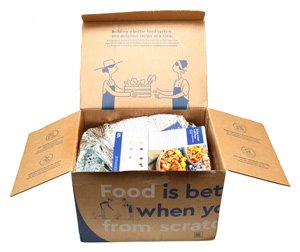 The meal-kit delivery service stumbled as a public company right out of the gate with a stock issue price some 40% below estimates. That was thanks in part to the giant Amazon.com Inc. (Nasdaq: AMZN) announcement that it will buy Whole Foods Market Inc. (Nasdaq: WFM) released nine days earlier. And when Blue Apron stock started to trade, it almost immediately began to slide lower.
From its June 29 debut at $10 per share, its price tumbled 35%.
Analysts, however, see investors changing their views on the company even with competition from Amazon. According to data from MarketWatch, Blue Apron now enjoys seven "Buy" ratings and four "Equal Weight" ratings. Only one analyst in the group maintains a "Sell" rating.
After the analyst reports were released July 24, the Blue Apron stock price surged as much as 20% in trading to a high of $7.86. That's more than 26% higher than its lowest traded price of $6.23 set on July 18.
Could this stock have bottomed? Some of the analysts wrote that "the opportunity for the company is huge" and "expect market conditions to improve," alluding to the fact that competition is expected to consolidate in the industry.
Sign up for SMS so you never miss special events, exclusive offers, and weekly bonus trades.
However, Money Morning Capital Wave Strategist Shah Gilani has been warning investors to avoid Blue Apron stock even before the company went public for many reasons.
Blue Apron's business model of delivering prepackaged ingredients and recipes to subscribers' doorsteps sounded sexy. The theory was sound, especially as it was supposed to disrupt traditional grocery shopping and pose a new challenge to restaurant businesses.
But there are theories, and then there's reality...
These Blue Apron Stock Price Predictions Ignore One Glaring Problem
The company is not profitable. It never has been. And according to filings with the U.S. Securities and Exchange Commission, Blue Apron lost $54.9 million in 2016, even though revenue more than doubled to $795.4 million.
One of the Biggest Bubbles Every Analyst Is Missing: Most have no idea this huge $297 billion bubble is about to burst. But the ones that do? They're about to mint millions. Continue reading...
Even before its ill-fated entrance into the market, rumors were circulating. Bloomberg Technology recently wrote that "Blue Apron had sought additional available credit before the initial public offering, according to people familiar with the matter. Some firms declined to lend the company money because it was seen as too risky, while others weren't willing to extend as much as was requested..."
Apparently, going public was a necessity. That's never a good reason.
Gilani recently appeared on FOX Business Network's "Varney & Co." and didn't mince words. He pointed out how Amazon is monumentally ramping up its grocery business with the Whole Foods acquisition, and its likely entry into the meal-kit delivery business would be a potential game changer.
But it gets even worse...