Editor's Note: This story was updated on Oct. 19, 2017.
A recent tweet from Elon Musk has investors buzzing about the profit potential of Boring Company stock...
On Thursday, July 20, Musk announced on Twitter that his Boring Company received verbal approval to bore a tunnel connecting New York and Washington, D.C.
BREAKING: New Legislation Could Turn Tiny Pot Stocks into Millions. Click Here…
The tunnel is part of Musk's "Hyperloop" project, which Musk says will be the fastest humans could travel between two cities "short of figuring out real teleportation." The New York-D.C. tunnel (which will also connect to Baltimore and Philadelphia) could slash the travel time between the cities to less than half an hour.
Musk says the Hyperloop will revolutionize transportation, and that isn't the only industry he's going to revolutionize...
The Boring Company Could Revolutionize Travel


The Hyperloop is an airless, tube-shaped track with a special vehicle capable of hovering inside the tube. Through electromagnetic levitation and no wind resistance, the Hyperloop would allow passengers to travel at speeds up to 760 mph. That's more than double the top speed of maglev trains - currently the world's fastest - which can reach 268 mph.
Musk first discussed the idea of a Hyperloop in July 2012, when he told a PandoMonthly audience how he hoped the Hyperloop could become a new form of transportation.
However, the technology to make this ambitious idea work doesn't exist yet.
To make that happen, Musk began a competition for others to create a working Hyperloop vehicle prototype.
In September 2016, Musk's space travel company SpaceX built a Hyperloop test track in the Californian desert. SpaceX is now holding competitions where research teams bring their Hyperloop vehicle prototypes to the test track to see which team has the best design. SpaceX held the first Hyperloop competition in January 2017, and another is scheduled for August.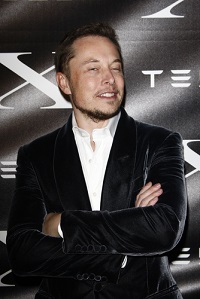 And in 2016, as SpaceX was finishing the Hyperloop test track, Musk also created the Boring Company. The Boring Company's function is to bore tunnels between cities for the eventual Hyperloop track.
So far, the Boring Company has only practiced digging tunnels at SpaceX's research facility in California. But last week's announcement is a sign that the Boring Company is ready to begin commercial work.
Unfortunately, investors looking to get in early on Elon Musk's new business can't buy Boring Company stock right now. The company isn't yet publicly traded. And a Boring Company IPO might not be coming soon, either; Boring Company seems a long way from its first project.
While Musk says he's received "verbal" approval to bore a tunnel connecting Washington to New York, there's no indication he's received government permission from the four states involved. Musk will also need to purchase the necessary property or settle legal issues arising from tunneling underneath other properties before beginning.Investors eyeing the profit potential of commercial space travel are also unable to invest in Musk's SpaceX company. Musk says he's not considering a SpaceX IPO until it completes its first mission to Mars, a project that's three years away at the earliest.
While the Boring Company might not be publicly traded now, investors can profit from Elon Musk's disruptive vision today...
How to Profit from Elon Musk's Ambition