The U.S. government isn't paying attention to North Korea's biological weapons program.
Though the U.S. Department of Defense released a report way back in 2014 indicating that Pyongyang indeed possessed robust biological warfare capabilities, the document did not list any suggested course of action for Uncle Sam to take.
Meanwhile, the Hermit Kingdom's bioweapons advancements have flourished – as evidenced by Kim Jong Un's alleged use of a deadly nerve agent to assassinate his half-brother, Kim Jong Nam, this past February…
The Mounting Evidence of North Korea's Unconventional Weapons
On Feb. 13, Kim Jong Nam's assassination spurred speculation that North Korea actually possessed the deadliest unconventional weapon known to man.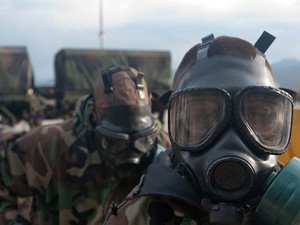 Nam's murder purportedly involved the nerve agent VX (which is actually a chemical weapon, not a biological one). Two women allegedly smeared the agent on Nam's face inside a Malaysian airport. Nam died en route to the hospital.
The women are the only suspects in custody in a killing that South Korea's spy agency said was part of a five-year plot by North Korean leader Kim Jong Un to kill his half-brother. Siti Aisyah and Doan Thi Huong, from Indonesia and Vietnam, respectively, actually stand trial today (July 27) in Malaysia and are expected to plead "not guilty" in the murder of Kim Jong Nam.  If found culpable, however, they face execution.
The use of VX in the attack indicates that North Korea is willing to move beyond the traditional military tools of foot soldiers and ballistic missiles. Aisyah and Huong targeted Nam specifically with the chemical weapon, but a biological weapon could affect a much larger population, spreading from person to person before the symptoms become apparent.
It's likely North Korea has been developing such nontraditional weapons since the 1960s, reported Dr. Sonia Ben Ouagrham-Gormley in a July 18 analysis for the Bulletin of Atomic Scientists.
Defectors and South Korean reports have suggested that North Korean researchers have worked with biological agents the U.S. government considers serious threats, Dr. Ben Ouagrham-Gormley claimed. Such agents include plague, anthrax, viral hemorrhagic fevers, and vaccine-resistant smallpox.
Indeed, following Nam's assassination, expert testimony last month revealed that North Korea actually has unconventional warfare facilities hidden throughout the country…
Dr. Joseph S. Bermudez, Jr., a North Korean expert for the U.S. Korea Institute, claimed in June that "North Korea has deliberately built its NBC [nuclear, biological, chemical] infrastructures in extreme secrecy; undertaken camouflage, concealment, and deception operations to mask the NBC infrastructure," reported 38 North, a website that follows developments in and around North Korea. "[Pyongyang has] made extensive use of legitimate defensive or civilian industrial and research infrastructures and dispersed NBC facilities around the country."
"An understanding of these infrastructures is essential in mitigating NBC weapons usage during periods of instability, preventing onward proliferation, and in planning and conducting operations to locate, secure, and eliminate NBC capabilities when the need arises," said Bermudez.
In short, understanding North Korea's bio and chemical warfare advancements is critical to keeping the rogue country in check.
Unfortunately, Uncle Sam seems ill prepared to counter such weapons should they be released stateside, let alone to "understand them"…
The U.S. Is Far from Prepared to Defend Itself Against Bioweapons
As it currently stands, responsibility for one aspect or another of biodefense is spread between literally dozens of U.S. government agencies.
This means there is no centralized coordination to counter a bioweapon attack.
In the recent past, this has led to agencies tripping over each other trying to mount appropriate responses to threats. One good example of such intra-governmental mayhem: the Ebola outbreak.
That's when the Centers for Disease Control and Prevention (CDC) took it upon itself to issue guidelines to hospitals for personal protective equipment (PPE) requirements for preparing for Ebola.
The trouble was that wasn't CDC's job.
It was the Occupational Safety and Health Administration's (OSHA) job.
Because of this intra-agency communication breakdown, the CDC wound up distributing Ebola preparations guidelines that were hard to follow and inappropriate for many hospital environments.
This lack of communication is made worse by the fact that funding and support for pandemic preparedness programs is on the decline in the United States.
The budget President Donald Trump proposed in March would slash critical funding at the Department of Health and Human Services (HHS) by $15.1 billion, including deep cuts to the National Institutes of Health (NIH), which underwrites more infectious disease research than any other agency in the world.
On top of all that, even though the United States attended the eighth Biological Weapons Convention (BWC) Review Conference in November 2016, the U.S.' representative there, Robert Wood, released a scathing report on Nov. 25 criticizing the nations in attendance for failing to come to strong consensus or create solid strategies during the consortium.
As a direct result of Wood's report, a bill to create a national biodefense strategy was introduced to the Senate in December 2016.
That bill is still waiting to be addressed…
We're Not Taking Any Chances While Uncle Sam Rests on Its Laurels
Money Morning Executive Editor William Patalon, III, has been following developments in the "Asian Arms Race" since 2012.
In fact, he's been following the relationship between the United States and Asia for three decades.
And he's made prescient calls for his Private Briefing subscribers to follow in order to profit from the geopolitical turmoil.
For example, he recommended Boeing back in 2011, when the aerospace manufacturer was worth $61.92 a share.
After surging 14% following its recent pullback in May, The Street named the jet pioneer the "Best-Performing Dow Stock" of 2017 on Tuesday.
That's when Boeing hit a new high of $211.25 a share.
For investors who followed Bill's lead six years ago, that's a 241% increase in profit.
And Bill makes these calls all the time.
Have a look at more recommendations in his subscription service Private Briefing…
Follow Money Morning on Twitter, Facebook, and LinkedIn.
Related Articles: