This week the Bitcoin price went from $2,875 Saturday to as low as $2,433 Wednesday before bouncing back to $2,800 Friday.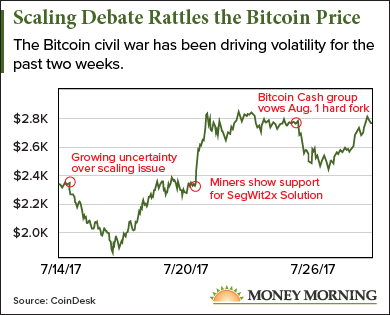 The 15% drop and subsequent recovery were both due to events related to the Bitcoin civil war.
After two years of stagnation, rapid-fire developments in this philosophical struggle have driven Bitcoin price volatility for two straight weeks.
With numerous proposals and threats floating around two weeks ago, the price of Bitcoin slumped about 26% as uncertainty gripped the market.
That reversed when a compromise proposal, SegWit2x, appeared to gain widespread approval. Most Bitcoin investors believed SegWit2x would prevent a contentious "hard fork" that would create a separate version of Bitcoin and split the community.
Relieved traders pushed the Bitcoin price up 60%, to as high as $2,948.51, in just four days.
But this week brought yet another plot twist…
A Bitcoin Hard Fork, After All
The Bitcoin civil war centers on the so-called scaling debate. Bitcoin has grown to the point that the network has reached its limit in the number of transactions it can process.
Special Report: Cannabis Is the Gold Rush of the 21st Century – 30 Stocks to Invest in Now. Read More…
One segment of the Bitcoin community wanted to fix this by increasing the size of the blocks that contain the transaction data beyond the 1 MB specified in the current Bitcoin software.
SegWit2x addressed this by scheduling an increase to 2 MB in November. But some of the "big blockers" didn't think this was enough. Others distrusted the SegWit2x plan, suspecting the 2 MB block increase would never happen.
So on Tuesday this group announced plans to do a hard fork anyway, set for midnight Aug. 1. This separate version of Bitcoin, called Bitcoin Cash, will have 8 MB blocks.
The news caught the Bitcoin markets off guard, triggering the 15% decline on Wednesday.
But then a funny thing happened. The Bitcoin price started to rise again.
Related: How to Buy Bitcoins – Your Guide to Digital Profits
While that seems counterintuitive considering the fresh uncertainty the Bitcoin Cash hard fork will bring, here's why it makes sense.
Why the Bitcoin Price Is Rising Despite the Hard Fork News
The Bitcoin Cash hard fork will do something that has Bitcoin traders excited….