Since the price of silver saw a flash crash on July 7 and prices fell to $15.37, the precious metal has managed to continue its third straight week of gains. It climbed 1.2% last week from $16.50 on Friday, July 21, to $16.73 on Friday, July 28, and is now up 9.6% from the July 7 bottom to today's price of $16.85.
So far, the gains have been small but steady, with the average daily price gain since July 7 being 0.5%. Because of silver's "quiet rally" and ongoing mispricing relative to gold, I think silver prices in 2017 can continue to climb much higher. The gold/silver ratio has been above the 75.50 level all month for the first time since May 2016, indicating a mispricing with gold.
Additionally, I think the falling U.S. Dollar Index (DXY) - down 52 basis points last week to its lowest level since April 2016 - and a dovish U.S. Federal Reserve will help lift the silver price higher. Those factors combined with improving momentum and sentiment all add up to a big bull run for the metal this year.
Before I get into my specific 2017 silver price prediction, let's take a closer look at the metal's third straight weekly gain last week...
Price of Silver Rises 1.4% Last Week (July 21 - July 28)
After settling at $16.50 on Friday, July 21, silver prices opened Monday, July 24, at the same level. Unfortunately, that open marked the highest level of the session, as the metal tumbled 0.2% lower to close the day at $16.46.
Tuesday saw a small rebound despite the silver price nearly perfectly mirroring the DXY's bearish performance. As the DXY fell from 94 to 93.70 in the morning, silver opened lower at $16.28. However, both gradually climbed higher, with the DXY closing back above 94 and silver prices closing at $16.48 for a 0.1% gain on the day.
Here's a look at the DXY last week...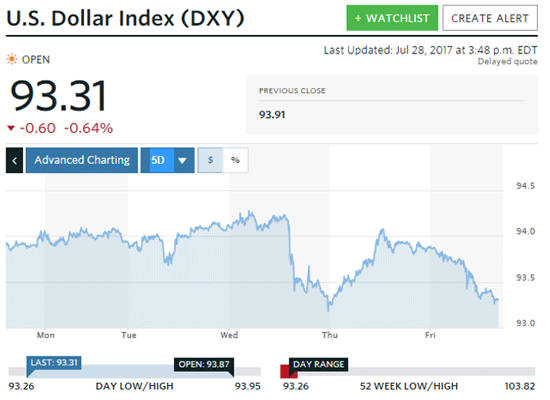 The rally really kicked in on Wednesday as silver prices recuperated dramatically. Despite opening lower at $16.41, they rocketed higher midday as the Fed kept interest rates unchanged and the FOMC statement rang dovish. As the Fed's announcement dragged the DXY lower from 94.23 to 93.40, silver surged to $16.64 by close. That marked a 1% rise on the day.
Silver prices were swinging violently on Thursday, as they opened higher at $16.73 but proceeded to plunge to $16.58 by midday. The metal eventually closed at $16.55 for a 0.5% loss on the day.
On Friday, July 28, silver traders decided to close out the week with a bang as the metal opened higher at $16.66. As the day wore on and the DXY fell below 93.50, the price of silver moved up to settle at $16.73. That marked a 1.1% daily gain and 1.4% weekly gain for the metal.
Look for the X: This mysterious "X" pattern predicts which stocks are going up – with 100% certainty. Some have gained as much as 225% in 15 days and 264% in less than a month. Learn more...
And the price of silver today (Monday, July 31) is continuing last week's rally. It's up 0.7% and trading at $16.85 today.
With last week's rise, silver has posted three consecutive weeks of gains. The metal's winning streak is a strong indication that sentiment is turning bullish, which is why I think silver prices could head much higher through the second half of the year.
Here are my bold silver price targets for the rest of 2017...
My Silver Price Forecast and Price Targets for 2017
Join the conversation. Click here to jump to comments…
About the Author
Peter Krauth is the Resource Specialist for Money Map Press and has contributed some of the most popular and highly regarded investing articles on Money Morning. Peter is headquartered in resource-rich Canada, but he travels around the world to dig up the very best profit opportunity, whether it's in gold, silver, oil, coal, or even potash.