Medical marijuana legalization could be the solution to America's ongoing opioid epidemic, and that could unlock better than 85% profits for savvy investors…
"You don't need me to tell you that we're in the middle of a huge and growing opioid crisis. I'm almost certain you've seen the statistics – and you've likely seen the evidence yourself," Money Morning Director of Technology & Venture Capital Research Michael A. Robinson said on June 28, 2017.
From funding substance abuse programs to criminal justice-related costs, the opioid crisis has a staggering economic burden of $78.5 billion, according a 2015 U.S. Department of Health & Human Services (HHS) report.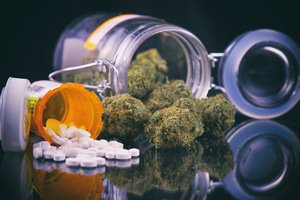 However, legalizing medical marijuana could be a way to cut the cost of the pricey epidemic, reduce the number of addictions, and provide a profit opportunity for forward-thinking investors.
According to studies from the past three years, there's already evidence that cannabis legalization is helping curb the opioid crisis.
And we've uncovered one marijuana stock that is set to soar as it develops a groundbreaking new treatment that will combat the opiate crisis…
Medical Marijuana Legalization Is Reducing the Amount of Opioid Overdoses
As you can see from the chart below, the opioid crisis affects people of all ages. The crisis is hitting middle-aged Americans especially hard. In 2014, nearly 12 out of 100,000 people aged 45 to 54 years in the United States died from an opioid overdose.
Fortunately, there appears to be some hope for people battling addiction, thanks to medical marijuana…
A 2014 study examined the relationship between legalized marijuana and overdose deaths from opioids. In the study, Dr. Marcus Bachuber discovered that between 1999 and 2000, the U.S. states with legalized medical marijuana had a 25% lower annual opioid overdose death rate than states without legalized medical marijuana.
In a more informal study, psychiatric nurse practitioner Anita Willard Briscoe and three colleagues had similar findings, according to Rolling Stone. Briscoe found 25% of patients were able to stop using opioids because they used marijuana instead, according to self-reported data from 400 patients collected between 2015 and 2016.
BREAKING: New Legislation Could Turn Tiny Pot Stocks into Millions. Click Here…
The evidence shows medical marijuana's potential to combat the opioid crisis, and one company is taking it a step further. This company is producing a cannabis-based drug that could replace opioids as a pain reliever, eliminating the need to prescribe the dangerous drugs.
In a May 24 report, Reuters reported the company would file with U.S. regulators for its cannabis-derived drug.
He calls this a game changer, and the profit potential for early investors is real.
Financial service firm Cantor Fitzgerald believes this company's stock price could climb more than 85% in the next 12 months.
Here's everything you need to know about this profit opportunity in the cannabis industry…
Medical Marijuana Legalization Poised to Help This Stock Price Skyrocket