Last week, the Senate Committee on Appropriations - the group that determines spending legislation in the Senate - reapproved an amendment that would keep U.S. Attorney General Jeff Sessions far away from medical marijuana.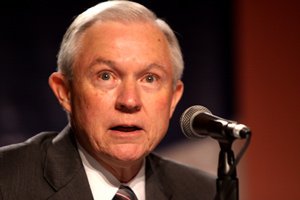 The committee voted to reapprove the Rohrabacher-Farr Amendment, which would effectively block the U.S. Department of Justice (DOJ) from using any federal funds to go after medical marijuana patients and businesses.
In other words, Sessions' mission to end legal marijuana just got a whole lot harder.
You see, Sessions has long been a staunch opponent of legal marijuana in any form - medical or recreational. He even petitioned the committee back in May not to block the DOJ from enforcing medical marijuana laws.
But the committee flat out ignored him. Here's why...
"We Have More Important Things to Do"
"The federal government can't investigate everything and shouldn't, and I don't want them pursuing medical marijuana patients who are following state law," said Sen. Patrick Leahy (D-VT), the ranking member of the Senate Committee of Appropriations, in a statement.
Instead, Leahy argued that the DOJ should focus its energy on more pressing matters. "We have more important things for the Department of Justice to do than tracking down doctors or epileptics using medical marijuana legally in their state," he said.
Indeed, the DOJ's main purpose is to enforce the law and ensure public safety against threats foreign and domestic, according to the DOJ website.
And if Sessions considers marijuana use a threat, he's in the minority. In fact, Gallup surveys found that support for legalization rose to 60% in 2016, up from 25% in 1995.
"The number of states that are legalizing at least the medical use of cannabis is overwhelming now. Public opinion has always spoken on this issue," said a founder of the bill, Rep. Dana Rohrabacher (R-CA), to The Hill on July 26. "I think people will listen to their own constituents rather than Sessions."
The Best Pot Stocks: After months of research, we've found the most lucrative and fastest-growing legal pot stocks in America. And for a limited time, you can get all the details for free. Learn more...
And listen they have. To date, 28 states plus the District of Columbia have legalized marijuana for medicinal use. That number is only growing...
Three more states are expected to legalize marijuana in some form by the end of this year.
And if the Rohrabacher-Farr Amendment makes it through the House, every state that legalizes is another state in which Sessions will lose all jurisdiction when it comes to pot.
And that's good news for marijuana companies... as well as those who invest in them.
Sessions Is Out of Options
"The Rohrabacher-Farr Amendment is one of several major ongoing initiatives underway all over the federal and state levels of government that could see even more gains for legal cannabis - and more profits for folks investing in it," said Money Morning Director of Technology & Venture Capital Research - and renowned marijuana industry expert - Michael A. Robinson.
"The bottom line is, Jeff Sessions looks like he's just about out of options (or, more to the point, out of money) if he wants to use the full weight of the Justice Department to crack down and interfere with legal marijuana right now," added Michael.
In fact, "If nothing else, [Sessions' efforts] may spur a renewed push among marijuana businesses to continue to be good citizens and neighbors in their communities and to make sure their operations are in full compliance with all state and local laws," said Emily Gordon, the in-house counsel at Simplifya, a compliance company that provides simulated government audits and services that keep clients up to date on regulation changes.
And making a difference in a community leads to a positive brand image, which leads to more sales - and more opportunities for pot stock investors.
How to Invest in Medical Marijuana Now
Most investors recognize that marijuana has enormous profit potential, especially now that it may be safe from Sessions' prying hands.
Medical marijuana sales are projected to grow from $4.7 billion in 2016 to $13.3 billion in 2020. And by 2025, analysts expect medical marijuana sales to reach $55.8 billion. That's a 1,087% increase from today.
"The next wave for this industry will be an exciting, profitable ride," says Michael.
But you've got to know how to avoid the duds.
As a service to Money Morning readers, Michael is recommending more than 30 stocks in the booming cannabis sector, and he's put them all together into an exclusive "weed investors' bible," The Roadmap to Marijuana Millions.
Click here to reserve your copy right now.
For more marijuana industry updates, follow Money Morning on Twitter @moneymorning, Facebook, and LinkedIn.
Up Next for You...
How Marijuana Companies Could Improve Your Community
The Top Marijuana Companies to Watch Now
Why Jeff Sessions Can't Fix the Opioid Crisis on His Own
[mmpazkzone name="end-story-hostage" network="9794" site="307044" id="138536" type="4"]