Although mainstream media has finally started reporting on North Korea's weapons testing, they continue to overlook the other great battleground of the "Asian arms race": the South China Sea.
If you've been following along with us, you'll know that China has laid claim to an enormous swath of the South China Sea, a region worth $5 trillion in trade, ignoring six governments' claims as well as an international ruling from the Hague Tribunal.
In fact, the stakes in the contested waters around the "nine-dash line" – the demarcation line Beijing uses to highlight its claims in the waters – have never been higher, thanks to a number of factors.
But these incidents have largely fallen off of the mainstream media's radar, as many outlets only give passing mention of the area.
But we at Money Morning know – and prefer to share with our readers – that true danger lies in the hotly contested Pacific region. And that danger becomes all the more palpable when developments there go ignored.
As Money Morning Executive Editor Bill Patalon often points out, "When the United States is distracted by other geopolitical squabbles is when China will strike."
Bill's been covering developments in the Asian arms race for three decades – so he would certainly know.
With that in mind, here's a quick look at the latest, least-reported news from the disputed "nine-dash line" – plus Bill's insight on what we can expect from Beijing next…
South China Sea Timeline from June 1, 2017, to Today
June 3:
U.S. Secretary of Defense James Mattis warned China that it would not accept Beijing's militarization of man-made islands in the contested waters. The existence of the manufactured archipelago goes back several years, actually. Former U.S. President Barack Obama's administration, for example, regularly condemned China's island-building while it likewise sought to build ties with, and among, the Southeast Asian nations whose claims overlap with those of China.
June 9:
Two American Air Force B-1B Lancer bombers flew a 10-hour training mission from Guam over the South China Sea. The flight was part of a planned exercise, according to the U.S. government that day. But it was enough to elicit China's ire, with its foreign ministry announcing on June 10 that "China's military will resolutely safeguard national sovereignty, security, and regional peace and stability [in the South China Sea]," reported Reuters.
June 23:
In an arguably comical and random pronouncement (considering what was to follow just a few days later), China asked the United States and India "not to disturb the peace in the South China Sea," reported The Economic Times that day.
June 27:
China's military unveiled its first of 18 warships that the Red Dragon intends to deploy in the South China Sea. Specifically, Beijing revealed a destroyer ship that day – weighing in at 10,000 tons and equipped with state-of-the-art air defense, antimissile, antiship, and antisubmarine weapons. This means the warship can not only instigate battles at sea, but it can defend against first strikes as well.
Must See: The South China Sea is about to get violent. But thanks to a small $6 U.S. defense firm with a top-secret new technology, China is about to be taken to the woodshed. Read more…
July 2:
The U.S. military countered the "birth" of China's new destroyer warship by sailing one of its own into the South China Sea. The U.S. Department of Defense stated that the operation was indeed meant to challenge Beijing on its competing claims in the area. It was the second "freedom of navigation operation," or "FONOP," conducted during Donald Trump's presidency.
July 16:
Indonesia entered as a new contender in the South China Sea dispute – and took a strong side against Beijing. In an act of defiance – and in possible solidarity with other nations already part of the dispute – Indonesia deemed the northern areas of its exclusive economic zone in the South China Sea as the "North Natuna Sea." In short, Indonesia basically renamed a region China claims sovereignty over as its own. The nation even went so far as to create new maps online.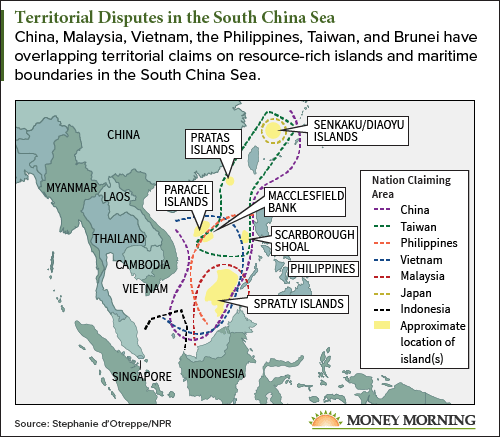 July 21:
Five days after Indonesia's foray into the dispute, China and Russia began naval exercises in the Baltic Sea – far from the South China Sea. But the implication of the joint venture had American media outlets worried about a possible Sino-Russian alliance that could potentially hinder U.S. naval operations in the South China Sea one day.
August 2:
News broke just this morning that a U.S. sailor has gone missing in the South China Sea. His disappearance apparently occurred amid joint U.S.-Japanese naval exercises that were underway in the contested region. It's important to note that Japan, too, is locked in territorial dispute with China, though not directly in the South China Sea. Rather, the Tokyo-Beijing standoff concerns territorial claims in the East China Sea. Much like Beijing's assertion of sovereignty over areas within the "nine-dash line," it also has stated numerous times over the past few months that uninhabited islands in the East China Sea rightfully belong to China as well.
And China has every reason to continue asserting its sovereignty in the region, no matter how arbitrary its claims or how many countries disagree. Check it out…
China's Ace in the Hole
You see, China has little reason to heed the United States' warnings when it comes to its aggressive claims to the multitrillion-dollar trading region.
That's because the United States needs China's help with North Korea.
And though U.S. President Trump has threatened economic sanctions against Beijing for its failure to muzzle its totalitarian neighbor, taming North Korea will be a monumental task without China's cooperation. And that cooperation would come at a cost.
For example, Bill believes China will soon ask America to remove its Terminal High Altitude Area Defense (THAAD) missile defense system in South Korea. China hates the system because it's capable of picking up activity that would otherwise be clandestine on the Red Dragon's mainland.
"To get Beijing to really lean on Pyongyang, Trump will have to surrender both THAAD and the South China Sea – and perhaps Taiwan, too," Bill said on July 21.
But while China holds the best cards now, I don't expect it will for long…
That's because a new technology could give the United States all the leverage it needs in the South China Sea…
Meet the American-Made "Chinese Carrier Killer"