Currently, 20 of the 21 analysts covering Snap Inc. (NYSE: SNAP) have bullish Snapchat stock price predictions. One even has a price target as high as $31.00.
But those predictions couldn't be more wrong...
In fact, Money Morning Chief Investment Strategist Keith Fitz-Gerald just reiterated to readers in May that Snapchat "is still the most dangerous IPO [he's] ever seen."
Why You Can't Trust Snapchat Stock Price Predictions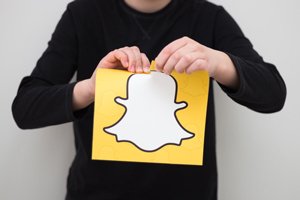 One of the reasons we at Money Morning don't like IPOs for retail investors is their high volatility. SNAP is no exception.
The company reported its first quarterly earnings on May 10 after the bell. Snapchat stock dropped 21.4% the next day, closing at $18.05.
The sharp drop in stock price was a result of the poor quarterly earnings report.
Must See: This Great Depression-Era "Secret" Helped Transform Two Teachers into Millionaires. Read more...
Adjusted earnings per share (EPS) missed analysts' expectations. Analysts expected SNAP to report adjusted EPS loss of $0.19 per share, according to Yahoo! Finance. The company reported a loss of $0.20 per share for Q1.
Daily active users (DAUs) also missed the mark. Analysts expected Snapchat to report 167.3 million global DAUs, but it only reported 166 million global DAUs.
And the downward pressure is continuing ahead of the Aug. 10 Q2 earnings report. Yesterday (Tuesday), the stock was down 4.2%, closing at $13.10 per share.
And that's not the only reason we avoid IPO stocks like Snapchat...
Going public used to be a way to raise funds for viable businesses. But that is no longer the case for many companies.
"Now companies go public because they've got an idea they hope to 'monetize,'" Fitz-Gerald said. "More often than not, they're huge money losers hoping to 'cash out' on your dime - like Snap has."
You see, IPOs are just get-rich-quick schemes for investment banks and institutional investors. These investment banks and large institutions are able to buy shares at the offer price.
Retail investors don't get in at the offer price. Instead, we have to wait until the higher "open price."
Because these big banks and large institutions need the price to be bid up in order to make a profit, analysts (who work at these banks) rate the new stock very favorably. This entices people to buy the stock at an inflated price. Once the excitement vanishes (and the big banks and institutions cash out), the stock price drops.
We saw it with GoPro Inc. (Nasdaq: GPRO) and Fitbit Inc. (NYSE: FIT). Both are trading about 90% below their post-IPO peak prices.
"The thought that any sane investor would buy Snapchat is frightening," said Money Morning Capital Wave Strategist Shah Gilani. "Buying shares in SNAP is like trying to pick up nickels in front of buses."
After all, this is a company that admitted it might never make money when it filed for its IPO.
SNAP Stock Likely to Drop Again on Aug. 14