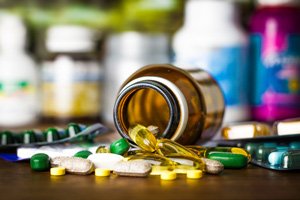 Our three top pharmaceutical stocks to buy are all expected to rise by double-digits this year, making this a great time to pick up shares.
In fact, one of the stocks on our list is expected to gain as much as 87% in the next 12 months because of a drug that is expected to be approved by the FDA later this summer.
Another stock is expected to gain as much as 172% this year now that its newest drug was approved by the FDA without the warning label its competitor will likely have when it is approved.
And the first pharmaceutical stock on our list is expecting an 8.2 % increase in revenue over the next three years from the sale of its newest drug...
Pharmaceutical Stocks to Buy, No. 3: Sanofi SA (NYSE: SNY)
Sanofi SA (NYSE: SNY) is expecting revenue growth of over 8% thanks to its new drug, Dupixent. The drug was made available by prescription in March to treat extreme cases of eczema. It is the first injection to treat the skin condition.
Dupixent has a serious advantage over its competition. In 2005, the FDA required Elidel cream and Protopic ointment (both used to treat milder forms of eczema) to have a warning label after it was discovered that they could potentially cause cancer. Dupixent does not have this warning label.
BREAKING: New Legislation Could Turn Tiny Pot Stocks into Millions. Click Here...
Revenue from Dupixent is anticipated to hit $3 billion a year in just three years, according to Money Morning Director of Technology & Venture Capital Research Michael A. Robinson's studies.
Last year, Sanofi's total revenue was $36.6 billion. Adding the sales for Dupixent could increase the company's total revenue by more than 8%.
SNY also has a huge pipeline that may deliver another potential blockbuster drug. Currently, the company is developing 44 different treatments. Of those drugs, 13 are in phase 2 clinical trials or higher. Roughly 50% of the late-stage drugs have been researched and developed in collaboration with other pharmaceutical companies, reducing the company's risk and cost of development.
Large pipelines are good news for investors. They help reduce the risk of a single drug either not getting FDA approval or not selling as well as anticipated when it becomes available.
Sanofi's pipeline isn't the only avenue for future growth. In mid-July, it purchased a smaller company, Protein Sciences Corp., for $650 million initially and $100 million at the achievement of specific milestones.
Sanofi and Protein Sciences make flu vaccines. The acquisition will allow Sanofi to increase its production of the flu vaccine while also giving it access to a version that is not egg-based. The non-egg-based vaccine will give Sanofi an edge in the market since most vaccines for the flu contain the common food allergen.
The flu vaccine market is huge. The U.S. Centers for Disease Control and Prevention (CDC) reports that 174.5 million flu vaccine doses were given in the United States in 2015, a 27% increase over the previous two years.
Analysts' consensus one-year price target for SNY is $53.25, a gain of 12% from its current market price of $47.57 a share. On the high side, one analyst estimates that SYN could climb to $54.50 in the upcoming year, a 15% gain.
We should note these estimates were made prior to Sanofi buying Protein Sciences, so it is likely that the analysts' price targets will be raised in the coming months.
This next stock is rising thanks to advances in medical marijuana, potentially gaining 87% in the next 12 months...
Pharmaceutical Stocks to Buy, No. 2:  GW Pharmaceuticals Plc. (Nasdaq: GWPH)
GW Pharmaceuticals Plc. (Nasdaq: GWPH) develops and manufactures cannabis-derived medications.
The company's latest drug, Epidiolex, received fast-track status from the FDA last year. The fast-track designation is reserved for drugs that demonstrate especially good results in phase 1 trials. It is designed to get the medication approved and available to patients more quickly.
Epidiolex is currently in phase 3 trials to treat Lennox-Gastaut Syndrome, Dravet Syndrome, and infantile spasms. Robinson expects final FDA approval will be given for the drug this summer based on the positive results and fast-track status.
Another reason to like GWPH is its pipeline. Right now, the company has five other drugs in clinical trials. Three are in phase 2 trials. This advanced-stage pipeline helps lower the risk of Epidiolex failing to secure FDA approval or underperforming once it is on the market.
The seven analysts that follow GWPH have a consensus one-year price target of $150.29. That's a 35% gain from the current price of $111.30 per share. One analyst thinks the stock could go as high as $208 in the next 12 months, for a potential gain of 87%.
The last stock on our list could gain as much as 172% now that the company has FDA approval for its newest drug...
[mmpazkzone name="in-story" network="9794" site="307044" id="137008" type="4"]
Pharmaceutical Stocks to Buy, No. 1:  Neurocrine Biosciences Inc. (Nasdaq: NBIX)
Neurocrine Biosciences Inc. (Nasdaq: NBIX) is what Money Morning Biotech Investing Specialist Ernie Tremblay calls a "foundational stock" to build your biotech portfolio around.
Tremblay's choice is partly based on NBIX's impressive price increases over the past two-and-a-half years. Since 2014, the stock has gained nearly 400%. By contrast, the Dow has only climbed 30% in the same period.
And these types of gains are expected to continue.
In April 2017, the FDA approved Neurocrine Biosciences' new drug, Ingrezza. It is the first approved treatment for tardive dyskinesia, which is a side effect of some antipsychotic medications.
NBIX's competitor, Teva Biotechnology Industries Ltd. (NYSE: TEVA), is expected to get FDA approval for its competing drug, Austedo. However, Ingrezza possesses two significant advantages over Austedo. First, Austedo will carry a warning label about the risk of suicidal tendencies. This label is not on Ingrezza.
Second, Ingrezza is expected to be less expensive than Austedo. Baird analyst Brian Skorney estimates that Ingrezza will cost roughly $64,000 annually. While that's still a hefty price tag, it is less expensive than Austedo's expected $70,000 annual cost.
Looking to the future, Neurocrine Biosciences has seven clinical trials currently underway. Four are in phase 2 trials or later. This late-stage pipeline will allow it to hedge its bets if Austedo doesn't sell as well as expected.
The 13 analysts that follow NBIX have a consensus one-year price target of $70.77, for a gain of 48% from its current trading price of $47.76 a share. One analyst has a one-year target price of $130.00 for Neurocrine Biosciences stock. That would be a gain of 172% in 12 months.
The Bottom Line: Sanofi, GW Pharmaceuticals, and Neurocrine Biosciences are our top three pharmaceutical stocks to buy today. While current drugs bring in revenue now, their strong pipelines help ensure future revenue growth.
Time-Sensitive Briefing: Thanks to just-announced, historic legislation, a new pot stock boom is about to blow the doors off anything we've seen up to this point. In a time-sensitive audio briefing, pot stock expert Michael Robinson details five marijuana stocks that are best positioned to skyrocket upon legalization and how you can grab your stake in them. Click here to listen to the briefing...
Follow Money Morning on Twitter @moneymorning, Facebook, and LinkedIn.