Well, the potential scenario I predicted last week about the price of gold appears to be playing out.
After closing at a peak of $1,278 on Wednesday, Aug. 2, gold prices have begun a small consolidation so far. Despite being on track for a flat performance this week, the metal is down 0.8% from that Wednesday high to $1,268 today.
But this is likely a good thing. After a robust rally that took the gold price from $1,210 on July 7 all the way to $1,278 on Wednesday, that three-week 5.6% gain was due for a rest.
My view is still that little attention is being paid to gold as the Dow Jones Industrial Average notches a fresh all-time high above 22,000.
So even though the price of gold might take a little time to digest its 5.6% rally over the last three weeks, I expect the precious metal to deliver even more gains in the weeks ahead.
Let's take a closer look at gold's performance this past week. Then, I'll show you just how high I see gold prices heading by the end of the year...
Price of Gold on Track for Flat Weekly Performance (July 28 - Aug. 4)
After settling at $1,268 on Friday, July 28, gold opened at the same price on Monday, July 31. It traded within a thin $2 range throughout the session and eventually closed at $1,267 for a small 0.1% loss.
Trading was equally choppy on Tuesday as gold prices opened lower at $1,266. Despite steady movement in the U.S. Dollar Index (DXY), gold climbed higher and ultimately closed at $1,273 for a 0.5% gain on the day.
Here's a look at how the DXY has performed this past week...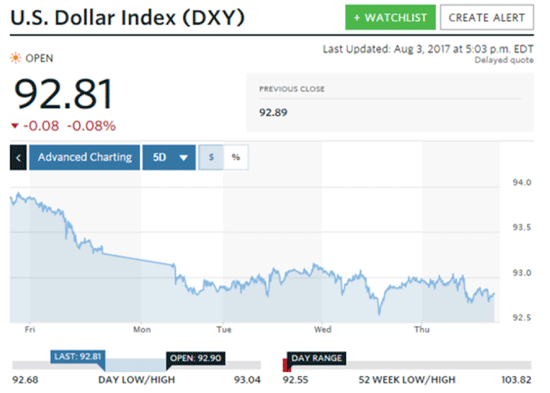 On Wednesday, Aug. 2, both the gold price and DXY were volatile as the Dow Jones surged to record highs. The metal peaked at $1,272 as the DXY bottomed at 92.58, but both reversed course from there. The dollar's push to 92.88 forced gold to settle 0.5% lower at $1,266.
Then on Thursday, gold prices hit a low in early morning trading near $1,262. But they managed to climb higher in the face of the DXY's ability to hold above 93. Gold settled at $1,268 for a modest gain of 0.2%.
Life-Changing Profits: This investing strategy has racked up 27 triple-digit wins so far this year - and 41 in the last 12 months. To learn how to get in position for the next one, click here now...
And the gold price today (Friday, Aug. 4) is trading at the same levels as yesterday and a week ago. It's trading flat at $1,268, putting it on track for a flat week after four consecutive weeks of gains.
As the price of gold closes out a week marked by volatile trading, investors want to know if the precious metal will maintain its long-term rebound from the July 7 low of $1,210.
I think that the metal will maintain that rebound this year, despite some possible consolidation in the near term.
Here's my 2017 gold price prediction...
This Is Where Gold Prices Are Headed in 2017
Join the conversation. Click here to jump to comments…
About the Author
Peter Krauth is the Resource Specialist for Money Map Press and has contributed some of the most popular and highly regarded investing articles on Money Morning. Peter is headquartered in resource-rich Canada, but he travels around the world to dig up the very best profit opportunity, whether it's in gold, silver, oil, coal, or even potash.