Today, we've got out latest list of stocks to watch now:
First, the world's biggest company single-handedly pushes the Dow to 22,000.
Then, a major defense contractor still impresses Wall Street in spite of lower earnings.
And finally, an embattled social media star continues to hide a key statistic, even as it "elevates" its importance.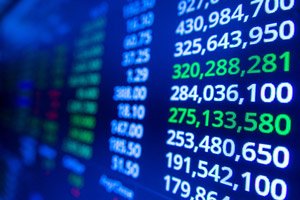 Stocks to Watch No. 1: Dow Hits 22,000 After Apple's Strong Earnings
While the S&P 500 and Nasdaq Composite barely budged on Wednesday, the Dow touched 22,000 for the first time and closed up 36 points.
That gain was driven almost exclusively by Apple Inc. (Nasdaq: AAPL). AAPL was up 4.7% on Wednesday, accounting for 53 points on the Dow. That was enough to make up for mild losses by Walt Disney Co. (NYSE: DIS), The Coca-Cola Co. (NYSE: KO), Verizon Communications Inc. (NYSE: VZ), and other Dow component stocks.
Apple's surge came after a better-than-expected earnings report on Tuesday afternoon.
Analysts were skeptical about Apple stock due to the company's anticipated release of the iPhone 8. Rumors had circulated about production delays, and many expected weak sales for existing iPhones as customers waited for the new model.
The earnings report brushed those concerns aside. Apple's revenue was up 7% from the same quarter last year, and net income was up 11.5%. More notably, Apple increased its guidance for next quarter, expecting revenue between $49 billion and $52 billion. Previous guidance was between $43.5 billion and 45.5 billion.
The increase in guidance suggests that Apple is expecting the iPhone 8 to hit (and fly off) shelves on schedule this fall - though some still suspect the initial supply will be limited.
But earnings and revenue guidance aren't the numbers Money Morning Chief Investment Strategist Keith Fitz-Gerald is focusing on. Keith told CNBC World's "The Rundown" on Tuesday night that what jumped out at him in Apple's earnings report was the services revenue, which grew 22% from the year before to $7.3 billion. This division, which includes Apple Music, Apple Pay, AppleCare, iTunes, iCloud, and the App Store, is a key area for growth as Apple's gadgets are increasingly going to serve as delivery devices for those services.
One part of the report that concerned Keith was that Apple's sales in China dropped 10%. China is Apple's second-biggest market. Still, the fact that Apple overcame that setback to turn in such a strong overall report - sales in Asia as a whole grew 15% - is an encouraging sign.
"I have a long-term perspective on Apple," Keith said. "It's going to be very hard to go wrong with that company."
AAPL was trading at $156.43 on Friday morning.
Stocks to Watch No. 2: Raytheon's Earnings Don't Tell the Whole Story
Defense contractor Raytheon Co. (NYSE: RTN) beat expectations last week, reporting earnings per share (EPS) of $1.89 compared to an expected $1.76. That's still a 20% drop from $2.38 in the same quarter last year. But here's what's important to understand: It's not as bad as it looks.
Raytheon's second quarter last year was a particular standout due to a $150 million windfall that came from restructuring a joint venture with European company Thales Group. So a drop-off was to be expected.
On top of that, the $1.89 EPS in the most recent quarter included a $0.09 charge associated with the early retirement of debt.
Raytheon also brought its free cash flow into positive territory after burning $127 million in the previous quarter.
All things considered, Raytheon's looking pretty good. That's probably why the stock has nudged up since the report last week.
Must See: Marijuana stocks are seeing triple-digit gains, and the next wave of wealth is coming. Learn how you could turn a small $100 stake into a fortune. Read more...
As Keith told readers in January 2015, Raytheon is "active in just about every defense sector around the world at a time when defense spending is (sadly) on the rise." RTN is up 61.5% since Keith made the pick, compared to 22.1% for the S&P 500. That makes it one of our Money Morning Top 10 Outperformers, as shown below.
Join the conversation. Click here to jump to comments…
About the Author
Stephen Mack has been writing about economics and finance since 2011. He contributed material for the best-selling books Aftershock and The Aftershock Investor. He lives in Baltimore, Maryland.