Money Morning Director of Technology & Venture Capital Research Michael Robinson recently told readers about a new opportunity he likened to investing in the National Football League in 1920. The recommendation was to invest in e-sports.
You may ask, "E-sports? What is that, and why should I care?"
You might have asked the same question in 1920 about the NFL, and look how well that did. SportsBusiness Journal reports the NFL expects to generate $14 billion in 2017. So, when Robinson thinks that e-sports are primed for massive growth in a similar way, we should pay close attention.
Trending: So Small, Yet So Powerful; This Microscopic DOT Is About to Impact 7 Billion People
Over the past four years, e-sports enjoyed 138% growth. That's a total of 238 million viewers around the world for a new kind of "sport" that didn't really hit its stride until 2010. And this has not been lost on traditional sports institutions. A group of owners from the NFL, National Basketball Association, and Major League Baseball recently invested more than $140 million to start their own teams.
And while the industry may be a young one, it is already ripe for disruption…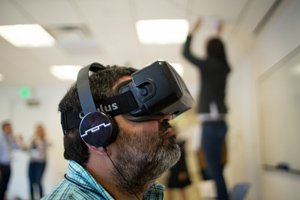 If the players don't look like traditional athletes, it's because they aren't. In the new field of "e-sports," teams duel it out over computer games while fans watch online or, believe it or not, at major arena-type venues like Madison Square Garden. And that makes it ripe for the richly immersive experience of virtual reality (VR).
SuperData Research valued the e-sports market at $748 million in 2015. The figure includes sponsorships, advertising, team prizes, fantasy sites, and ticket sales. By the end of 2018, SuperData says that figure will climb 154% – to $1.9 billion.
Roughly 52% of those sales will come from the United States and Canada. In other words, unlike most American pro sports, e-sports already is a global field with a lot of growth ahead.
And Robinson has found the best way to play this industry's explosive growth…
The Best Way to Invest in E-Sports Today