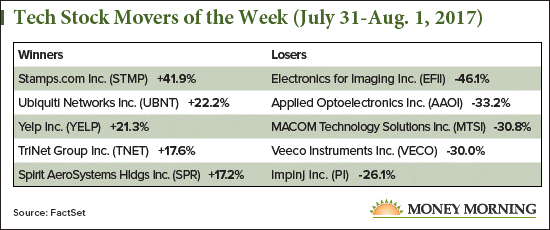 Last week brought some big swings among our list of tech stock* movers. We had several moves of over 30% and even a couple over 40%, driven mostly by new quarterly reports.
Stamps.com Inc. (Nasdaq: STMP) soared a whopping 41.9% for the week - and it's no wonder Wall Street has warmed up to the stock. The provider of mail and shipping solutions had a spectacular earnings report. Total revenue was up 38% from a year earlier, and net income was up 117%. Paid customers rose 14% from a year earlier, and monthly average revenue for those customers rose 20%. Analysts expect STMP's earnings per share (EPS) to fall this year, but this was the second straight quarter that earnings beat expectations by more than 25%.
Ubiquiti Networks Inc. (Nasdaq: UBNT) hit an all-time high on Wednesday after reporting a 23% increase in quarterly revenue from a year earlier. Gross profit rose from $89.8 million to $103.2 million. The strong numbers were largely driven by the San Jose-based company's Enterprise Technology products, whose revenue grew by almost 50%. The networking technology company plans to hold an investor update meeting, which will be broadcast live on the Internet on Sept. 26.
Urgent: An $80 billion cover-up? Feds use obscure loophole to threaten retirees... Read more...
Now, for last week's tech disappointments...
Digital printing company Electronics for Imaging Inc. (Nasdaq: EFII) suffered a massive 46.1% drop for the week after announcing that its second-quarter financial call would be postponed. The delay will give the company the chance to complete an assessment of its financial accounting processes - an assessment that will likely reveal a "material weakness." If that's true, EFII could face litigation in the near future. Several shareholder rights law firms have announced investigations of Electronics for Imaging for potential securities fraud and have alerted shareholders to call them with any questions or concerns they may have.
Applied Optoelectronics Inc. (Nasdaq: AAOI) turned in a pretty impressive earnings report on Thursday, but the stock still dropped 33.2% for the week thanks to disappointing guidance for next quarter. The optical device manufacturer had already fallen earlier in the week after rival MACOM Technology Solutions Holdings Inc. (Nasdaq: MTSI), which also made our losers list, reported disappointing results due to weak demand in China. AAOI's results from last quarter, however, beat expectations by a wide margin, and EPS grew 863% from a year earlier. But the company's third-quarter guidance, indicating a slowdown ahead, sent investors fleeing for the exits.
*Stocks have a primary listing on a U.S. exchange, a market cap greater than $1 billion, and are in either the Technology Services or Electronic Technology sector. Data and analytics provided by FactSet.
Turn a Small Stake into a Fortune: A new earth-shattering government announcement could completely change the legalization of marijuana - forever. In fact, thanks to this historic legislation, tiny pot stocks trading for under $5 are getting set to double, triple, or quadruple. In an exclusive interview with Money Morning, pot stock expert Michael Robinson shares all the good news - including details on five tiny weed stocks that could potentially turn a small stake into $100,000. Click here to continue.
Follow Money Morning on Twitter, Facebook, and LinkedIn.
Join the conversation. Click here to jump to comments…
About the Author
Stephen Mack has been writing about economics and finance since 2011. He contributed material for the best-selling books Aftershock and The Aftershock Investor. He lives in Baltimore, Maryland.