The United States, Japan, and Australia made a controversial move at this year's second Association of Southeast Asian Nations (ASEAN) conference - a maneuver that revealed their true intentions in the South China Sea conflict:
They're going to involve themselves in the hotly contested region to protect free trade on a global scale.
"[The ASEAN nations] and China should establish a set of rules that is legally binding, meaningful, effective, and consistent with international law," the three nations' foreign ministers declared in a joint statement, according to ABC.net today this morning (Aug. 7).
On the surface, it may seem that the trio of countries are trying to protect "the little guys" for the sake of freedom of navigation.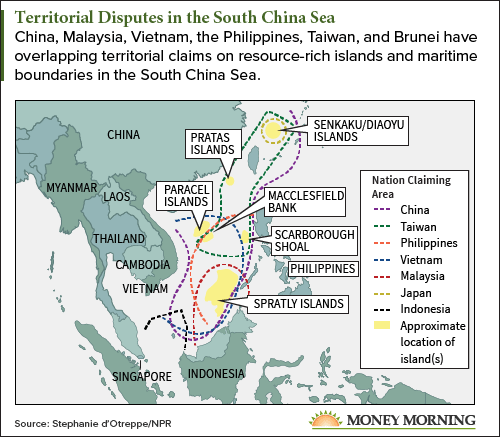 But these countries have more to protect than the sovereign claims of a handful of developing nations.
Here's what we mean...
America, Japan, and Australia Battle the Red Dragon
At last week's latest ASEAN powwow, representatives from Washington, Tokyo, and Sydney challenged Beijing in a heated debate over the creation of a South China Sea "code of conduct."
A "code of conduct" would essentially provide the framework for what China and ASEAN nations call "consultations on a formal agreement," Reuters reported today. The agreement would begin later this year.
For context, China lays claim to an enormous swath of the South China Sea, ignoring six ASEAN governments' claims by doing so.
Arguably the most disruptive move made by Beijing was its construction of artificial islands within the contested waters. That's because the man-made archipelago is home to Chinese missile batteries, radars, and military bunkers - the construction of which put neighboring nations on edge. They were concerned that China may be prepping for a military takeover, hence the calls for a code of conduct.
Immediately, China rebutted the demand set forth by the U.S.-Japan-Australia united front. It argued that, quite literally, a "code of conduct" wasn't up for discussion at the summit.
And, technically, China was right, which was a proverbial "win" already notched on its belt. Discussions about a "code of conduct" in the contested waters weren't scheduled into the summit's itinerary at all.
Its omission was, in effect, an acquiescence on the Southeast Asian countries' part -- Vietnam, Taiwan, Malaysia, Brunei, and the Philippines - to China's persistent stance on the matter.
Drafting such a code, Beijing has long argued, would be counterproductive because, as far as it's concerned, it wouldn't be legally binding anyway. This perspective reflects China's steadfast belief that the South China Sea in its entirety belongs to the Chinese.
Must See: North Korea is "fake news" - this is where WWIII will start. Read more...
Indeed, should an official "code of conduct" be created, it would dictate rules that would allow smaller countries the option of disputing the Red Dragon's assertions of sovereignty in a court of law. But even though a "code of conduct" would give the six small ASEAN nations a lot more leverage with their regional claims, they haven't fought for it.
Judging by the topic's omission from discussion during last week's summit agenda, the ASEAN nations have seemingly dropped the matter altogether.
But the United States, Australia, and Japan have not.
Fed up with the ASEAN countries' listlessness, they took the "code of conduct debate" upon themselves, demanding the code's creation and that China legally abide by it.
And that's when the three nations' ulterior motives became noticeably more apparent.
America's True Stakes in the South China Sea: The World's Wellbeing
An American-Japanese-Australian surrender in the South China Sea could handily result in the Red Dragon charging other nations for passage at exorbitant levels.
Japan and South Korea - allies to the United States - need continued free access to the waters, because diverting to sea routes elsewhere would be too expensive.
As for Australia, 60% of its exports pass through the South China Sea, The Australian reported in 2015. Losing that access would also mean expensive detour routes, the cost of which could hit its own economy hard.
But the greater implications of the U.S.-Japan-Australia demands are really about the greater good of the world...
You see, a full third of all global trade routes pass through the South China Sea, through which some $3 trillion of goods are lugged each year.
China's takeover could mean passages with massive price tags not just for Japan, Australia, or America, but for all nations who conduct any trade in that region. It could also mean a total blockade. And a move that dire could very well lead to full-fledged war.
How to Profit as China Shirks Friendly Relations with the World
China has been exerting its power all over Asia lately - building up its border with North Korea, extending military vessels into the Sea of Japan, and, as always, working on the construction of its artificial islands throughout the South China Sea.
Money Morning Executive Editor Bill Patalon has been watching Beijing's movements for years. In fact, he's been following developments in the "Asian arms race" for three decades.
And thanks to his updates and insight, Bill has kept readers of his subscription service, Private Briefing, abreast on the latest matters so they can position themselves to profit.
For example, he recently outlined how rocket propulsion manufacturer Aerojet Rocketdyne Holdings Inc. (NYSE: AJRD) is poised to become one of the strongest U.S. defense companies in ongoing U.S.-China disputes.
"Aerojet is involved in futuristic programs like hypersonic weapons," Bill wrote on July 26. "Plus, it will soon be a player in the burgeoning commercial-launch market."
AJRD is up 35% so far in 2017 and looks to keep climbing higher.
So check out more of Bill's prescient stock calls right here.
Secret Weapon Set to Foil China's Master Plan: The South China Sea is about to get violent, and the Chinese have an alarming new superweapon they think gives them the upper hand. Or at least, that's what their war hawks think. But they couldn't be more wrong. Thanks to a small $6 U.S. defense contractor with a top-secret technology, the Pentagon has an ingenious new checkmate move designed to stop a Chinese sneak attack dead in its tracks. Click here to learn more...
Follow Money Morning on Facebook, Twitter, and LinkedIn.
Related Articles:
[mmpazkzone name="end-story-hostage" network="9794" site="307044" id="138536" type="4"]