Although silver prices saw some mild profit taking from investors early last week, the metal took a 2.3% nosedive on Friday, Aug. 4. That loss was responsible for the price of silver's 2.5% weekly decline since Friday, July 28.
Friday's drop came after the release of the July jobs report that showed payrolls had risen by 209,000 jobs. That smashed economists' expectations of 180,000. The June number was also revised up to 231,000 from 222,000.
But the even bigger piece of data was the unemployment rate, which fell to a 16-year low of 4.3%. That's bolstered the Fed's case for another interest rate hike in 2017, which pushed the U.S. Dollar Index (DXY) up from its two-and-a-half-year low of 92.84 on Thursday, Aug. 3, to 93.49 on Friday, Aug. 4.
Since silver is priced in U.S. dollars, any rise in the dollar's value makes gold more expensive to users of other currencies. That usually reduces demand, which weighs on the silver price and explains Friday's 2.3% decline.
However, all of this just means silver is trading at a great bargain. Silver's losses have pushed the gold/silver ratio back above 77, meaning it trades at a value compared to gold. I think this could cause a wave of buying behavior and send silver prices much higher this year.
Before I get into my bullish silver price prediction for the rest of 2017, let's look at the price's day-to-day movements last week…
Silver Prices Post a Weekly Decline of 2.5% (July 28 – Aug. 4)
After closing at $16.66 on Friday, July 28, silver held up pretty well on Monday, July 31, as it capped off an impressive month. It opened at $16.80 and traded mostly in that range throughout the day, settling at $16.75 for a 0.5% gain from the previous close. That gave the price of silver a monthly rise of 1.1%.
Look for the X: This mysterious "X" pattern predicts which stocks are going up – with 100% certainty. Some have gained as much as 225% in 15 days and 264% in less than a month. Learn more…
On Tuesday, silver opened a bit lower at $16.70, then bottomed as the DXY moved toward the 93 level. But by 10:00 a.m., the DXY had retreated back below 93, and silver bounced to peak at $16.79 an hour later. The silver price couldn't hold those gains against the dollar, and the metal ended the day 0.1% lower at $16.73.
Here's how the DXY performed last week…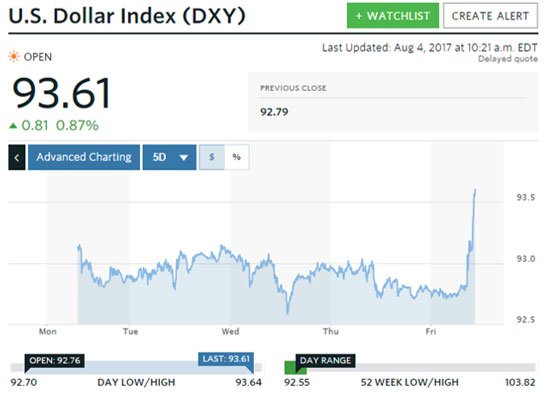 Both silver and the dollar were volatile on Wednesday, with silver starting the day lower at $16.63. A mini "flash crash" dragged it down to $16.50 at 9 a.m. as the DXY was peaking back above 93. But the metal and the dollar reversed course by midday, with the former rising to $16.70 and the latter falling 40 basis points to 92.60. The price of silver eventually ended the session flat at $16.73.
Thursday saw some profit taking from silver investors even as the dollar dropped below the 93 level yet again. Despite opening at $16.53 and climbing from there throughout the day, silver prices settled at $16.63, 0.6% lower from the previous close.
As I mentioned above, Friday was marked by a huge silver sell-off as the stellar July jobs report sent the dollar higher. By 10:30 a.m., the DXY had shot up from 92.80 to 93.70. This tanked the silver price, falling all the way to $16.25 by the close. That gave it a daily loss of 2.3% and weekly loss of 2.5%.
And silver prices today (Monday, Aug. 7) are continuing last week's losses. They're down 0.4% and trading at $16.18.
Last week's sharp decline has come as a shock to investors. After all, the price of silver was thought to have bottomed on July 7 at $15.37. Now that the metal is back near three-week lows, investors may be worried the rally since July 7 is coming to an end.
However, I don't think you should worry about this recent volatility. I still believe silver prices are poised to rebound now that they trade at a discount to gold.
Here are my bold silver price targets for the rest of 2017…
This Is Where the Silver Price Is Headed This Year
Join the conversation. Click here to jump to comments…
About the Author
Peter Krauth is the Resource Specialist for Money Map Press and has contributed some of the most popular and highly regarded investing articles on Money Morning. Peter is headquartered in resource-rich Canada, but he travels around the world to dig up the very best profit opportunity, whether it's in gold, silver, oil, coal, or even potash.