In 2016, legal North American marijuana sales reached $6.7 billion, giving investors good reason to look closely at marijuana stocks. Because pot stocks are the best way to profit from the marijuana industry's growth, we want to show you how to invest in marijuana stocks with four investing strategies...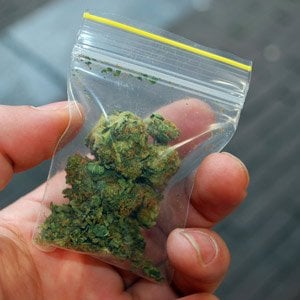 These four marijuana investing strategies will show you how to hone in on some of the most profitable areas of the marijuana industry. And we'll even show you the marijuana stocks to watch as part of these investing strategies.
However, we aren't recommending these marijuana stocks. Rather, these are pot stocks to watch as the United States and Canada continue to legalize marijuana.
Investing in Marijuana Stocks, Strategy No. 1
Marijuana companies need land to cultivate their crops, store fronts to use as dispensaries, and office space for their operations. Locating real estate for a marijuana operation can be a challenge due to regulations and the stigma associated with the industry.
That's why real estate companies specializing in properties for marijuana growers and storefronts can charge a premium for rental space.
According to Bloomberg, marijuana companies in Oregon are paying $12 to $18 per square foot for retail space. In comparison, other businesses in the state pay an average of $5 per square foot to rent similarly sized spaces.
One marijuana real estate stock to watch is Zoned Properties Inc. (OTCMKTS: ZDPY).
Zoned Properties owns a 50-acre property in northern Arizona; 13 of those acres under development and have been leased thus far. The property includes over 20,000 square feet of greenhouse cultivation facilities.
The company also owns a commercial property located in what will be one of Arizona's first medical marijuana business parks.
According to its website, Zoned Properties has $9.1 million in assets and a market cap of $15.24 million.
Over the last 52 weeks, the ZDPY stock price has had volatile price swings, trading between $0.50 and $3.88 per share.
From yesterday's (Aug. 8) closing price of $0.88, the ZDPY stock price has climbed 76% from its 52-week low.
Video
Which States Will Legalize Marijuana Next?
Aside from real estate, we have three other investing strategies for the cannabis industry and the pot stocks to go with them. In fact, one of the stocks we're about to mention could climb 23% in the next 12 months.
BRILLIANT: Average Americans Are Becoming Marijuana Millionaires
On top of that, it also pays a dividend, offering extra income for its shareholders. That makes it one of the safest "pot stocks" you can own today...
Investing in Marijuana Stocks, Strategy No. 2
[mmpazkzone name="in-story" network="9794" site="307044" id="137008" type="4"]
While these aren't exactly "pot stocks," two companies that make money in the marijuana industry are Social Life Network Inc. (OTCMKTS: WDLF) and MassRoots Inc. (OTCMKTS: MSRT).
Social Life has created a cannabis social media website called WeedLife Network. The site has its own search engine that is dedicated to the marijuana industry. WeedLife Network also provides visitors with coupons and discount deals.
A new marijuana business can also use the network's website-builder tool to create a basic web page.
MassRoots is the largest marijuana social media network, with more than 1 million registered users. Members can access the network from a web page or mobile app, where they can follow marijuana companies and dispensaries and share content.
MassRoots sent out a Jan. 4 letter to its shareholders letting them know that company revenue as of Sept. 30, 2016, had increased 1,140% year over year. MassRoots also has a partnership with MJ Freeways, a marijuana seed-to-sale tracking company.
WDLF shares closed at $0.13 yesterday, and shares of MSRT closed at $0.46.
Investing in Marijuana Stocks, Strategy No. 3
Two of the top medical marijuana stocks to watch this year are Growblox Sciences Inc. (OTCMKTS: GBLX) and GW Pharmaceuticals Plc. (Nasdaq: GWPH).
Growblox is a medical marijuana company that is creating medical cannabis with state-of-the-art plant biology technology. The company focuses on clinical trials, lab testing, and FDA compliance. BLX also works on marketing and branding unique medical marijuana solutions.
Among its products are treatments for epilepsy, Alzheimer's, Parkinson's, and pancreatic cancer.
GW Pharmaceuticals has been in business for nearly two decades and was the first company to create an approved prescription derived from cannabis.
GW's main project right now is called Epidiolex, which will be a treatment for those suffering from a rare form of epilepsy.
The GBLX stock price closed yesterday at $0.26 per share, and the GWPH stock price closed at $115.10.
Investing in Marijuana Stocks, Strategy No. 4
Scotts Miracle-Gro Co. (NYSE: SMG) is known for being a leader in lawn care and gardening since 1868.
When the economy was growing in the early 2000s, mega-retailers like Home Depot Inc. (NYSE: HD) and Wal-Mart Stores Inc. (NYSE: WMT) were expanding their locations. Because each store carries Scotts' products, Scotts' revenue climbed 80% between 2001 and 2009.
But after the financial crisis of 2008 and 2009, Wal-Mart and Home Depot stopped expanding and shut down stores.
That left Scotts' revenue stagnant.
Must Read: How to Buy Bitcoins
So in order to boost sales, CEO Jim Hagedorn made what some consider a controversial decision: He invested in the marijuana industry.
Yes, some investors might not consider SMG a "pot stock," but the company still services the cannabis industry. And this is one of the few ways to invest in a company in the cannabis sector that pays a dividend.
In 2015, Hagedorn purchased two companies that specialize in soil and fertilizer for cannabis growers. In July 2016, he also acquired a 75% stake in Gavita International, a hydroponics equipment company.
And it appears Hagedorn's forward-thinking decision is paying off...
As of December 2016, Scotts' hydroponics business generated roughly $250 million annually, according to Bloomberg. That number will continue to climb as more states legalize medical and recreational marijuana...
According to Money Morning Director of Technology & Venture Capital Research Michael A. Robinson, the value of the hydroponically grown plants market is skyrocketing.
The global crop value of hydroponically grown plants is expected to climb from $17 billion in 2013 to $24 billion by 2018.
That's a 41% increase in just five years.
Over the next 12 months, Great Lakes Review, a division of financial firm Wellington Shields, has a one-year price target of $104 for the SMG stock price. From today's opening price of $97.26, that's a potential profit of 6.9%.
SMG also pays shareholders a dividend of $0.53 per share, for a yield of 2.19%.
The Best Pot Stocks: After nine months of exhaustive research, we've found the best, most lucrative, and fastest-growing legal pot stocks in America. They're all in our 89-page "bible of weed investing," The Roadmap to Marijuana Millions. And for a limited time, you can get all the details for free. Go here to find out how to reserve your copy today...
Follow Money Morning on Twitter, Facebook, and LinkedIn.