As a service to our readers interested in the cannabis market, we've compiled a list of the top marijuana penny stocks (August 2017), including the biggest gainers of the month so far. Afterward, we'll show you how to make money from Canada's pot legalization set to happen on July 1, 2018…
| | | |
| --- | --- | --- |
| Marijuana Penny Stock | Current Price | August 2017 Return (as of Aug. 8) |
| Praetorian Property Inc. (OTCMKTS: PRRE) | $1.25 | +358.2% |
| Worlds Online Inc. (OTCMKTS: MRMD) | $0.63 | +200% |
| United Cannabis Corp. (OTCMKTS: CNAB) | $0.98 | +193.8% |
| Gala Global Inc. (OTCMKTS: GLAG) | $0.99 | +72.7% |
| OXIS International Inc. (OTCMKTS: OXIS) | $0.04 | +59.3% |
| THC Therapeutics Inc. (OTCMKTS: THCT) | $0.40 | +26.6% |
| Acology Inc. (OTCMKTS: ACOL) | $0.01 | +21% |
| UMF Group Inc. (OTCMKTS: UMFG) | $0.16 | +13.3% |
| Amfil Technologies Inc. (OTCMKTS: AMFE) | $0.20 | +8.9% |
| Immune Therapeutics Inc. (OTCMKTS: IMUN) | $0.05 | +8.5% |
BREAKING: New Legislation Could Turn Tiny Pot Stocks into Millions. Click Here…
The top marijuana penny stock of the month so far has been Praetorian Property Inc., a real estate company that caters specifically to the cannabis sector. Formerly named Cannabis-Rx, the firm sells commercial properties to regulated and legally approved cannabis growers, suppliers, and distributors.
While no major news is behind PRRE's 358% rally since Aug. 1, there's been a clear spike in trading volume over the period. On Aug. 2 and Aug. 7, total trading volume reached an intraday high near 12,000 shares. That's one of the largest levels of the year so far for Praetorian stock.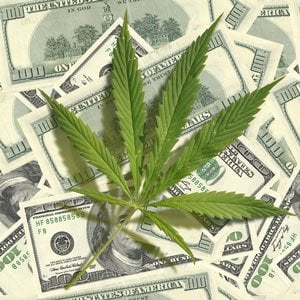 These random spikes in volume – and therefore share price – are commonly associated with marijuana stocks like the ones on the list because they trade on over-the-counter (OTC) exchanges. These exchanges are more decentralized and less regulated than the federally regulated, larger exchanges like the Nasdaq or NYSE.
But we aren't advising that you buy any of the top cannabis stocks on this list…
Instead, we're looking into profiting from the marijuana "bombshell" set to hit Canada next year.
In an exclusive new interview, Money Morning Director of Technology & Venture Capital Research – and marijuana investing expert – Michael A. Robinson shares some great news about Canada's pot legalization – including details on five tiny pot stocks that have the potential to turn a small stake into $100,000…
Here's your guide to the five best marijuana investments to make today…
Everything You Need to Know About the Top Marijuana Stocks of 2017