Since the "Tech Wreck" in early June, we've seen a "flight to quality" in the U.S. stock markets.
We can tell this by looking at the trading patterns for the four major indexes.
Each of them means something different, and each poses a different opportunity and challenge for individual traders and investors.
You can see them all in this chart I made on Friday...
The Markets Are Reacting in Very Different Ways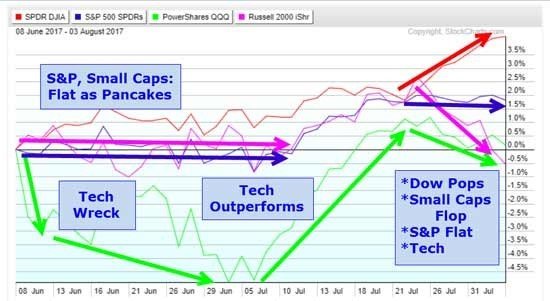 Looking at the chart above, we see that the lime green line - the Nasdaq - had a sharp pullback and follow through to the downside, giving tech stocks a 4.7% haircut.
Then tech recovered nicely, only to drift down a bit over the last eight trading days.
Now, as I've discussed before, the small-cap Russell 2000 Index climbed during the Tech Wreck.
Then it headed sideways, followed by a nice up move before being hit by a deep pullback over the last eight trading sessions, though it pared some losses yesterday.
The Dow Jones Industrial Average had a fairly steady climb during the past eight weeks, culminating in a sharp climb over the last seven days.
And for this whole period, the S&P 500 has been tiptoeing around - not doing much at all, really - smack dab in the middle of the other indexes.
During the past seven trading days leading into Friday, the markets have shown a very interesting pattern.
The Dow has soared.
The S&P 500 and the Nasdaq have done nothing, or as good as.
And the small-caps of the Russell 2000 have gotten whacked.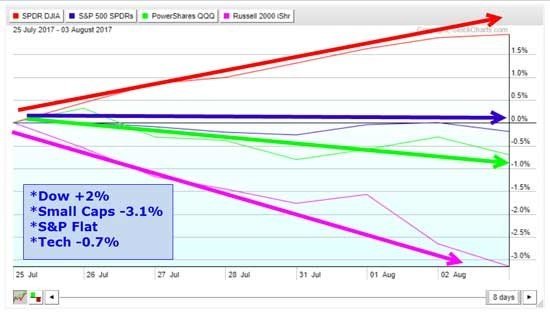 But this wildly varied performance is actually important.
I'll show you why; there's a valuable insight to be gained here...
The Broad Market's Just Not Ready to Fall
Join the conversation. Click here to jump to comments…
About the Author
D.R. Barton, Jr., Technical Trading Specialist for Money Map Press, is a world-renowned authority on technical trading with 25 years of experience. He spent the first part of his career as a chemical engineer with DuPont. During this time, he researched and developed the trading secrets that led to his first successful research service. Thanks to the wealth he was able to create for himself and his followers, D.R. retired early to pursue his passion for investing and showing fellow investors how to build toward financial freedom.