The majority of marijuana stocks are penny stocks that don't pay dividends, as cannabis companies need to use all of their revenue to build their businesses. However, we've found two multibillion-dollar companies that are becoming essential to the marijuana industry without ever selling a plant…
And both companies pay dividends with yields over 2%.
Over the last 12 months, one of these stocks has climbed 16.85%, and the other has climbed 23.96%. In comparison, the Dow Jones Industrial Average is up 18.82%.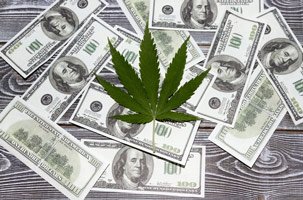 Yes, we know that may not sound impressive at first. But these are multibillion-dollar companies flying under the radar in the cannabis industry. That means you get exposure to the marijuana market without the risk associated with penny stocks, plus you get the dividend payouts.
And over the last 20 years, shareholders who reinvested the dividends in these stocks have booked triple-digit returns as large as 886%.
If you missed out on those gains, that's okay. These triple-digit winners are expected to keep growing as they enter the marijuana industry, and shareholders who reinvest their dividends will make even more money…
How Two Marijuana Stocks with Dividends Climbed Over 500%
If you invested $10,000 on Dec. 31, 1997, in the first stock we're about to talk about and didn't reinvest the dividend, your shares would be worth $53,146.11 as of Aug. 9, 2017.
However, with dividend reinvestments, you would have netted a return of $66,718.25. That's an extra $13,572.14 in your account and an overall gain of 567% from your original investment.
And the returns of the second stock have been even more staggering…
The Best Pot Stocks: After months of research, we've found the most lucrative and fastest-growing legal pot stocks in America. And for a limited time, you can get all the details for free. Learn more…
Without reinvesting the dividends, a $10,000 stake invested in this next company on Dec. 31, 1997, would now be worth $79,096.10. Not bad, but with dividend reinvestments, those shares would now be worth $98,673.22.
That's an extra $19,577.12 in your account and an overall gain of 886%.
Video
Here's How DRIPs (Dividend Reinvestment Programs) Work
Each company still pays shareholders a dividend yield of over 2%, and the stock prices for both are expected to climb an average of 16.48% in the next 12 months.
And that growth could be even bigger as the marijuana industry doubles in size. The cannabis industry is expected to grow from $6.7 billion in legal sales in the United States in 2016 to over $20 billion by 2020.
That's why you need to own these two backdoor pot stocks right now in order to maximize your profit potential…
The Top Marijuana Stocks with Dividends to Own for Long-Term Gains