If you want to invest in penny stocks in 2017, we have one tip to help you do so safely...
Penny stocks have the potential to deliver market-beating gains, but there are also plenty of scammers looking to take advantage of investors who want quick returns.
Video
The 3 Best Strategies for Trading Penny Stocks Today
The quick returns that penny stocks offer are the most attractive aspect of penny stock investing. For example, shares of Daré Bioscience Inc. (Nasdaq: DARE) soared 154.5% in less than a week, from $4.44 on June 30 to $11.30 on July 5.
But those explosive gains can be the result of a fraudulent scam committed by the company. Shares of Cynk Technology Corp. (OTCMKTS: CYNK), for instance, surged 24,900% from $0.06 on June 17, 2014, to $15 by the end of July 2014.
Once the U.S. Securities and Exchange Commission (SEC) caught wind of this incredible gain, it investigated the company and found it to be nothing more than a shell company engaging in a "pump-and-dump" scam. The leader of the scam - a California stock promoter named Gregg Mulholland - netted $300 million from it, but was ultimately sentenced to 12 years in jail for his role in the scheme.
Despite examples of fraudulent penny stocks, not all of them are bad for your portfolio. In fact, there's one easy way to determine whether or not a company might be trying to scam you...
1 Simple Tip to Use When Investing in Penny Stocks in 2017
Sign up for SMS so you never miss special events, exclusive offers, and weekly bonus trades.
When you find a penny stock that you might be interested in buying, one of the most important things to do is
investigate its most recent 10-K filing
.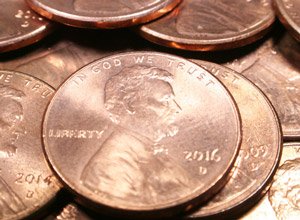 The 10-K form is a document submitted every year to the SEC that summarizes every aspect of a firm's financial health. It details annual earnings, losses, revenue, outstanding shares, and executive compensation.
Usually found under part III of the 10-K, the "Executive Compensation" section is important for penny stock investors. That's because it explains how the firm's CEO, board members, and other management employees are paid.
If you see that these high-level managers are mostly paid in the company's stock options, it shows they're dedicated to growing the company as much as possible. After all, the CEO's options can only be as valuable as the firm's stock price, which means they need the company to grow profitably. That indicates the firm may be worth your investment.
But if they're strictly paid in cash, it means they don't have a stock incentive to ensure the company's financial growth over the long term. Cash compensation is a red flag because it shows that the executives could be looking to cash in on their firm before the penny stock price drops to zero and the firm files for bankruptcy.
In other words, a penny stock's safety mostly comes down to whether or not the executives are paid in cash or in shares of the stock. If the compensation is cash, they're not invested in the company's future, so it could be risky for you to be.
Pot Profits: Forget Jeff Sessions! These Five Canadian Pot Stocks Are Set to Skyrocket. Click Here...
Even though they're important for penny stock research, 10-K filings can be intimidating. They're typically up to 100 pages long and written by company accountants who use dense language that can be difficult to decipher.
That's why Money Morning Small-Cap Specialist Sid Riggs prefers to do this digging for you and find you the best small-cap stocks to buy...
Today, Sid - whose April 19 pick has handed readers a 37.4% return since then - is recommending a direct play on one of the world's fastest-growing markets.
The market we're referring to is the booming Chinese auto market. From 2013 to 2016, China's auto sales surged 45%. That crushed sales from the United States and European Union, which only increased 12.45% and 22.9% over the same period, respectively.
While this stock is a little pricier than a typical penny stock - which are under $5 - you can rest assured this is a legitimate company with real growth potential. Here's Sid's newest recommendation...
One of the Best Small-Cap Stocks to Buy in 2017