(Kitco News) – World stock markets were mostly lower again overnight, amid keener risk aversion. U.S. stock indexes are also pointed toward weaker openings when the New York day session begins.
Gold prices are higher in pre-U.S. day session trading and hit a nearly two-month high on safe-haven demand.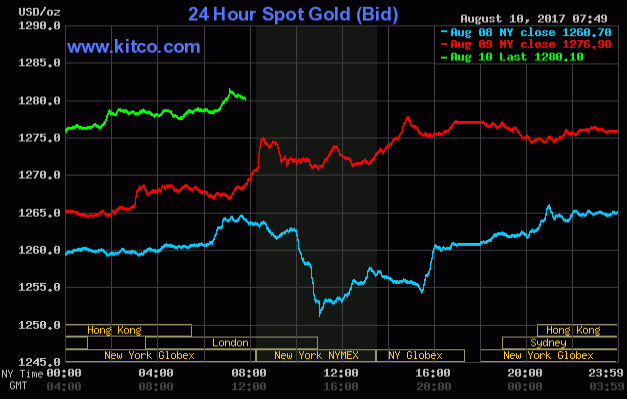 North Korea kept up its war talk Thursday by again threatening to unleash an "enveloping fire" in the coming weeks, with a specific target being Guam. On Tuesday U.S. President Trump said the world's strongest military could unleash "fire and fury" on North Korea if that rogue nation keeps threatening the U.S. with nuclear missiles. The U.S. secretary of defense and secretary of state on Wednesday backed up Trump's statement. Japan on Thursday said it would shoot down any North Korean missiles launched at Guam.
The U.S. dollar index is higher in early U.S. trading Thursday, on some safe-haven demand for the greenback. More price strength in the greenback late this week would begin to suggest a market bottom is in place for the dollar index.
Meantime, Nymex crude oil futures are modestly higher and trading just below $50.00 a barrel. The U.S.-North Korea tensions have not significantly impacted crude oil. That's a big change from years past, when crude prices would be seriously impacted by heightened geopolitical tensions. Crude prices have paused the past week, but prices are still in an uptrend from the June low and the bulls still have the overall near-term technical advantage.
The key U.S. data point on Thursday is the July producer price index. PPI is forecast to come in at up 0.2% from June. The June reading was up 0.1%. Inflation data from around the world has been on the weak side recently. Such is going to make it harder for the world's central banks to raise their interest rates.
Other U.S. economic data due for release Thursday includes the weekly jobless claims report and the monthly Treasury budget statement.
By Jim Wyckoff, contributing to Kitco News; jwyckoff@kitco.com
Follow Jim Wyckoff @jimwyckoff for breaking news.