Shareholders of Michael Kors Holdings Ltd. (NYSE: KORS) scored a windfall gain on Aug. 8 after the firm released its fiscal Q1 earnings numbers. They blew away estimates, and Michael Kors stock jumped 21%.
If you are one of the loyal shareholders who rode this stock down from $59 in March 2016 to the recent low near $32, we suggest you take this gift. Sell these shares and move your money into something that is not going to be squashed in what Money Morning Capital Wave Strategist Shah Gilani calls the "Retail Ice Age."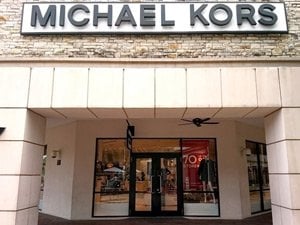 The company must see the writing on the "ice wall" too, as the high-end footwear and apparel maker recently acquired luxury shoe retailer Jimmy Choo for $1.17 billion.
Some Wall Street analysts are pumping this up as a good move for the company. However, Gilani vehemently disagrees and expects the stock to resume its fall.
Michael Kors Stock Has a Temporary Revival, but Bleak Future
Sign up for SMS so you never miss special events, exclusive offers, and weekly bonus trades.
Although the company performed better than expected in its first quarter, it still made less money than it did in the comparable quarter last year. And even though management believes that the company will earn $0.80 to $0.84 per share in the coming quarter, analysts still think it will underperform. The FactSet forecast consensus is currently $0.62 per share.
And the outlook doesn't include the Jimmy Choo acquisition, which the company admits will be dilutive for its earnings per share.
On the surface, adding the high-profile, high-heeled fashion darling to the Kors stable of upscale offerings looks to be a good strategy. That's part of the reason the Michael Kors stock price rebounded 22% this week.
But according to Gilani, "The acquisition is a huge gamble on a new old strategy that Kors initially succeeded in executing... then royally screwed up." Any wrong moves now could sink KORS stock and any hope of reclaiming the fat profit margins the brand once commanded.
That is a key point. The brand does not have the allure it once had, meaning it cannot charge the super premiums it once could. Lower revenue, lower profits. And a lesser brand would have more competition too.
Behind the lost glamour, Kors is a still a brick-and-mortar retailer that has 429 stores in the United States and an additional 329 stores internationally. However, it competes with other luxury brands that sell their merchandise through its Kors stores (companies like LVMH, Hermès, and Kering, which owns Gucci).
An Incredible Win Rate: Shah Gilani's Zenith Trading Circle subscribers have had the opportunity to make average gains of 44% per day (including partial close-outs) playing his recommendations. His win record is insane (in a good way). You've got to check this out - just click here.
In Kors' effort to expand its name, it went way beyond what its principal luxury competitors were doing. And that will be an extremely difficult problem for officials to fix going forward...
Problems Are Just Beginning for KORS Stock in 2017