Precious metals are doing their job this week, as global security tensions are on the rise.
The short-term peak and then consolidation for the price of gold that I expected last week seems to have come and already gone.
From July 28 until Aug. 3, gold prices plateaued at about $1,268 an ounce, then corrected the next day to the tune of $13. And that only lasted about three more trading days.
It's showing another decent rally now, even as the dollar has shown some resilience. In morning trading, the price of gold today (Friday) is up marginally to $1,286.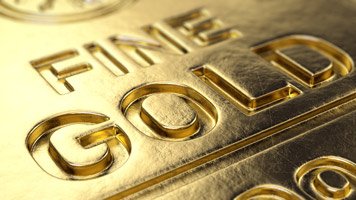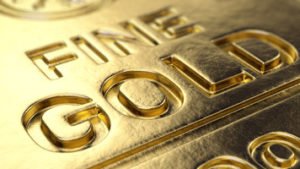 Of course, we have Donald Trump and Kim Jong Un rattling their sabres to thank for higher gold prices.
It's been a tit-for-tat series of back-and-forth threats, and gold has reacted as expected: gold up, stocks down.
But I think that even if the situation quiets over the coming days and weeks, gold could still be poised to shine.
Here's a closer look at how the price of gold has been trending this week, plus where I see the precious metal heading from here…
Why the Price of Gold Is Up 2.2% This Week
Gold ended the last trading week on Friday, Aug. 4, on a sour note, with sellers getting the upper hand. That day, the U.S. Dollar Index (DXY) rose around 8:00 a.m., then rallied hard from 92.80 to 93.70 over the next two hours. Gold traders sold wholesale, pushing gold prices from $1,267 at 8:00 a.m. way down to $1,256 by 10:00 a.m. The little strength gold had left pulled it back slightly higher to close at $1,258.
Life-Changing Profits: This investing strategy has racked up 28 triple-digit wins so far this year – and 44 in the last 12 months. To learn how to get in position for the next one, click here now…
That set the stage for Monday, Aug. 7, when gold opened at $1,256 and moved mostly sideways on little actionable news. The DXY remained stable on Monday as well. So by the end of New York trading, gold had managed to gain only $1 to close at $1,257.
Tuesday held more action as the dollar rallied in the morning. Gold had been rising in early morning trading, reaching as high as $1,264 by 7:00 a.m. But by 10:00 a.m. as the dollar rallied, pulling the DXY from 93.30 to 93.70 at 11:00 a.m., gold started to sell off. It lost $11 to reach $1,253 by 11:00 a.m. But the DXY gave up about half its gains, and gold buyers stepped back in, bidding it back up to $1,261 by end of day.
Here's a look at the dollar's action over the last five trading days…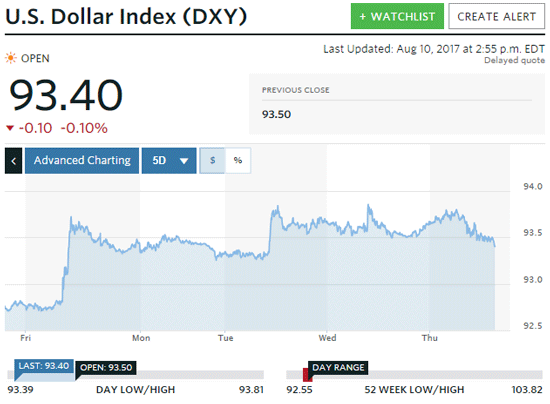 On Wednesday, it was all about "fire and fury like the world has never seen," as President Donald Trump warned North Korea against its hostile threats. Gold prices had been gaining overnight and in early morning trading, managing to open at $1,269, then gapping higher to $1,275 at 9:00 a.m. as reports of Trump's comments emerged. Here's how that looked…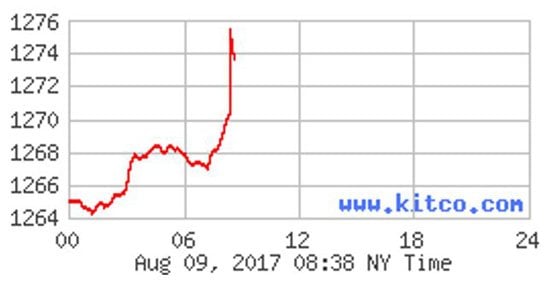 And after a brief retreat, the price of gold headed higher to close at $1,277.
On Thursday, global stock indices followed through in a big way on Tuesday's selling, with the S&P 500 losing nearly 1.5% and the Dow nearly 1%, while the VIX shot up an astounding 44% in one day. Gold delivered in spades, rising overnight and early morning to open at $1,282. It peaked at 10:00 a.m. near $1,287, then settled back to end the day a touch lower at $1,286.
Now that we've examined this past week's moves, here's what's next for the price of gold in 2017…
Where the Price of Gold Is Headed from Here
Join the conversation. Click here to jump to comments…
About the Author
Peter Krauth is the Resource Specialist for Money Map Press and has contributed some of the most popular and highly regarded investing articles on Money Morning. Peter is headquartered in resource-rich Canada, but he travels around the world to dig up the very best profit opportunity, whether it's in gold, silver, oil, coal, or even potash.