Investors won't be able to buy SpaceX stock until the company starts taking passengers to Mars, but that might be sooner than you think…
Back in June 2015, SpaceX CEO Elon Musk told Tesla Inc. (Nasdaq: TSLA) shareholders he plans to keep SpaceX private until the firm starts sending people to Mars. While a manned trip to Mars might seem unlikely right now, it could happen as soon as 2020.
But with high-profile goals like trips to Mars and billion-dollar contracts with NASA, everyone wants to know how much SpaceX stock will be worth after it hits the market. That's why we're going to show you everything you need to know about the SpaceX IPO, including how to make money once the SpaceX IPO eventually happens.
And this single chart shows just how valuable SpaceX stock could be after it goes public…
How Much Is SpaceX Stock Worth?
If you look at this chart, you'll see that the SpaceX valuation sits at $12 billion. That makes it the 10th highest-valued private startup in the world…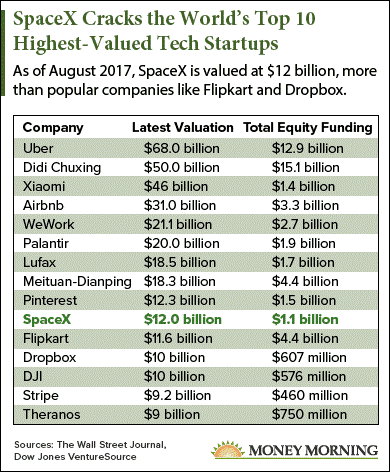 While SpaceX is valued above $12 billion right now, we can't know the exact SpaceX stock price until the company announces how many shares it plans to release when it goes public.
You see, the firm's $12 billion private valuation indicates that the total amount of SpaceX stock issued to the public would likely be worth an estimated $12 billion. But we can't know the SpaceX stock price until we know the number of shares that will be issued.
The company's market cap divided by the number of shares issued tells us how much each share of a company's stock is worth. While we have an idea of what SpaceX's valuation might be, without knowing the number of shares being issued, we can't know the specific stock price.
Elon Musk's other public company – Tesla – issued 13.3 million shares to the public during its IPO on June 29, 2010. While this could hint at the number of SpaceX shares that'll be issued, given that the same man is at the helm of both companies, there's no way to know for certain.
Medical Breakthrough: So small, yet so powerful, this microscopic DOT is about to impact 7 billion people – and create one of the biggest disruptions in human history. Learn more…
Despite the uncertainty surrounding the SpaceX IPO – which is at least three years away – you don't have to wait for it to profit from IPOs now.
In fact, Money Morning Director of Technology & Venture Capital Research Michael A. Robinson – who has 34 years of experience working with venture capitalists that help fund companies going public – has a way to profit from IPOs this year, without the risk of buying in on the first day.
Shares of this investment have climbed 9.8% this year, and Michael says it could keep handing investors returns this year.
One of the biggest reasons he likes this investment is because it offers broad exposure to newly public companies without the risk of investing in individual IPOs. When companies start trading for the first time, their stocks can be volatile during their first few months on the market as investors determine their value.
A prominent example of this is Facebook Inc. (Nasdaq: FB), which saw its stock fall 44% during its first three months on the market, from May 2012 to August 2012. But since then, FB stock has recovered an incredible 833%, from $18 per share to $168 today.
That means you get the benefits of an IPO without the risk associated with a company going public.
Here's Michael's backdoor strategy to profit from the hype surrounding IPOs, including SpaceX's eventual IPO, without the risk of buying in on day one…
Profit from IPOs in 2017 with This Easy Investment