(Kitco News) – Global stock markets were mostly higher Monday, on some easing of fears the U.S. and North Korea are headed toward military conflict soon. The U.S. secretary of defense and secretary of state, as well as other Trump administration officials, on Sunday said they are trying to achieve denuclearization of North Korea through diplomacy. Also, China on Monday said it has banned key North Korean imports.
Gold prices are weaker on some profit-taking from shorter-term futures traders and on a corrective pullback from recent gains. A slightly less risk-averse marketplace on Monday is also a negative for safe-haven gold.
In other overnight news, the Euro zone reported its industrial output was down 0.6% in June from May, and up 2.6%, year-on-year. These numbers were below expectations and fall into the camp of the monetary policy doves, who do not want to see the European Central Bank start to tighten its monetary policy.
Japan's gross domestic product growth came in at a strong 4.0% in the second quarter.
The U.S. dollar index is higher in early U.S. trading Monday. Trading has been choppy in the greenback the past week. Meantime, Nymex crude oil futures are modestly lower in early U.S. trading. Crude oil trading has also been choppy and sideways the past week. Stiff overhead resistance at the $50.00 level is keeping the bulls in check, at present.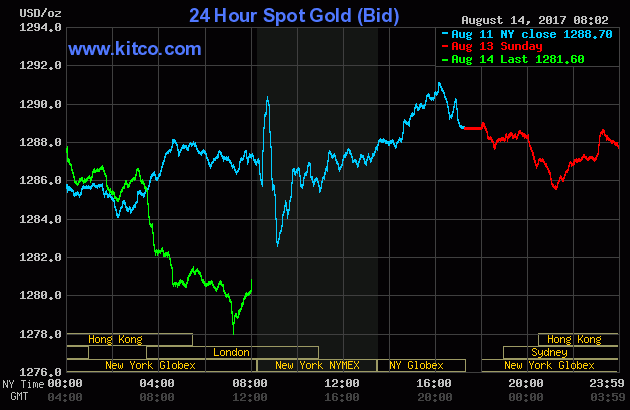 There is no major U.S. economic data due for release Monday.
By Jim Wyckoff, contributing to Kitco News; jwyckoff@kitco.com