The Stitch Fix IPO is captivating investors who hope to profit from the innovative companies that are killing the brick-and-mortar retail industry. And we have five facts every investor should know before Stitch Fix goes public...
Stitch Fix is a clothing startup that's finding success in the dying retail industry through its innovative approach to online sales. Stitch Fix is a subscription service that ships hand-selected clothing to its customers on a monthly basis, and it's growing just as its retail competitors are closing.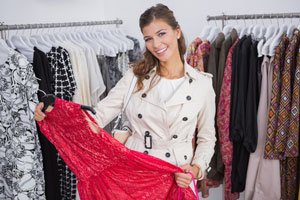 While brick-and-mortar retail stores are dying - Sports Authority had to file for bankruptcy and close 460 stores in 2016 - Stitch Fix recorded $730 million in revenue for its fiscal year ending July 2016.
And because the company could go public before the end of 2017, we have five important details Money Morning readers need to know ahead of the Stitch Fix IPO date.
The first detail is the company is nearing $1 billion in revenue just six years after launching in CEO Katrina Lake's apartment...
Stitch Fix IPO Fact No. 5: Stitch Fix Is Nearing $1 Billion in Revenue
One of the reasons Stitch Fix may be eyeing an IPO now is because it's closing in on $1 billion in annual sales.
Forbes estimated Stitch Fix generated $250 million in revenue in 2015. That number jumped to $730 million for its fiscal year ending in July 2016, according to a May 10 Recode report.
That's a 192% increase in revenue in just one year.
Lake hasn't said her company is waiting to reach $1 billion in sales, but hitting that total could help retail investors feel more comfortable about buying Stitch Fix stock.
NEW: Plot your course to a seven-figure weed windfall with the top pot stocks from every ecosystem - growers, edibles, dispensaries, and more. Read more...
Before the 2012 Facebook Inc. (Nasdaq: FB) IPO, the social media company reached $3.7 billion in sales and $1 billion in profit in 2011.
Stitch Fix should be on track to cross $1 billion, but its business model means sales are unpredictable...
Stitch Fix IPO Fact No. 4: Stitch Fix Has an Unpredictable Revenue Model
Because Stitch Fix relies on subscriptions, it will need to consistently retain or add new customers to grow its sales.
Unfortunately for Lake, other online subscription services haven't been faring well. For example, the June 29 Blue Apron Holdings Inc. (NYSE: APRN) IPO could cause some investors to be leery of buying stock in a subscription-based service.
Blue Apron had over a million customers at the end of the first quarter this year. But on Aug. 10, less than a month after its IPO, the meal service announced it had just 943,000 customers at the end of June, 57,000 fewer customers than it had at the end of Q1 2017.
That drop in customers nearly halved Blue Apron's stock price. Since opening on June 29 at $10 per share, the APRN stock price has fallen 45.5%, opening at $5.45 on Aug. 15.
But despite the risks in its business model, Stitch Fix is still seeking a lofty valuation...
Stitch Fix IPO Fact No. 3: Stitch Fix Is Seeking a Valuation Up to $4 Billion
Stitch Fix wants to be valued between $3 billion and $4 billion when it goes public, according to a July 31 Fortune report.
A $4 billion valuation would be double the $2 billion valuation Blue Apron sought, but it would be much less than the $19.5 billion to $22.2 billion valuation Snap Inc. (NYSE: SNAP) wanted before going public.
Ultimately, the valuation will be determined by what large investors like banks and hedge funds are willing to pay for Stitch Fix stock.
And that may not be as much as Lake is hoping for because of a key departure from the company...
Stitch Fix IPO Fact No. 2: COO Julie Bornstein Is Leaving
In July 2017, Stitch Fix announced COO Julie Bornstein was leaving the company, and the company hasn't said exactly why.
According to Recode, Bornstein is a widely respected e-commerce veteran, and she oversaw all of Stitch Fix's operations, marketing, and customer service teams.
The departure of such an important figure is notable before the company goes public. Investors want to be assured key management personnel are in it for the long haul, and the COO leaving before a public offering could scare away some retail and institutional investors.
Video
Julie Bornstein on Stitch Fix
Bornstein will officially step down in September, and we'll be keeping a close eye on who will take her place.
We want Money Morning to know all those details before the Stitch Fix IPO date. But the most important detail to know is about Stitch Fix's competitor...
No, it's not Trunk Club, but it's a company you've definitely heard of.
And it's the one company that could completely derail the long-term success of Stitch Fix.
Here's what you need to know about Stitch Fix's biggest competitor and whether we recommend owning Stitch Fix stock when it goes public...
[mmpazkzone name="in-story" network="9794" site="307044" id="137008" type="4"]
Stitch Fix IPO Fact No. 1: Amazon Could Become Biggest Competitor
On March 17, Amazon.com Inc. (Nasdaq: AMZN) launched a feature to its Prime members called "Outfit Compare."
Through the Amazon shopping app, Prime members can load two pictures of themselves in two different outfits they're trying to decide between. According to TechCrunch, an Amazon stylist will send you a response "a minute later" telling you which outfit looks best.
There isn't a clear indication of why Amazon launched this service.
However, TechCrunch speculates Amazon could use the collected data to make better shopping recommendations for customers in the future. The online retailer could also enhance the feature with suggestions on accessories to add to the outfit that are sold through Amazon.com.
Eventually, Amazon could incorporate the Outfit Compare feature into a new service that rivals Stitch Fix. The e-commerce giant is already building its own fashion line, with eight private-label brands as of March 2017.
Fears that Amazon will take over the meal delivery space have helped shares of Blue Apron crater, and the same thing could happen to Stitch Fix as Amazon tries to dominate online retail sales.
Amazon accounted for 16.6% of U.S. millennial online fashion spending in 2016, and that number could climb in 2017 with new services like Outfit Compare.
Don't Miss: This investing strategy has delivered 217 double- and triple-digit peak-gain winners since 2011. And you can get access for just pennies a day. Learn more...
In comparison, Stitch Fix only accounted for 3.2% of U.S. millennial online fashion spending.
Because Amazon already dominates the e-commerce world and has more services than just fashion, it's the better stock to own.
Yes, we know it's expensive at its opening price of $988.90 per share on Aug. 15. That's why we found a way for Money Morning readers to profit from AMZN and the online retail space at a fraction of the cost...
The "Backdoor Strategy" to Own Amazon Stock for Less
Owning an ETF may not seem as exciting as owning Amazon stock directly or buying stock of a new IPO like Stitch Fix.
But it's still a strategy that lets you profit from this innovative industry for a fraction of the cost of Amazon stock.
While you won't be able to own Amazon stock directly, you'll still profit from the e-commerce giant buy owning shares of Amplify Online Retail ETF (Nasdaq: IBUY).
IBUY holds a diversified group of publicly traded companies that generate 70% or more of their revenue from online or virtual sales. As of Aug. 15, 2017, AMZN stock represents 2.94% of the company's holdings.
Along with Amazon, some of its most well-known holdings include eBay Inc. (Nasdaq: EBAY) and Alibaba Group Holding Ltd. (NYSE: BABA). Instead of owning shares of a company that just sells clothes, you can own three e-commerce giants, each with market caps over $30 billion.
| | | |
| --- | --- | --- |
| Stock Symbol | Price Per Share as of Aug. 15 | YTD Return |
| IBUY | $35.62 | 30.92% |
| AMZN | $988.90 | 31.23% |
| BABA | $155.74 | 78.12% |
| EBAY | $35.24 | 18.62% |
So far in the last 12 months, the IBUY stock price has climbed 29.33%. In comparison, the Dow Jones Industrial Average has climbed just 18.05% during the same time.
And because the stock prices for AMZN, BABA, and EBAY are expected to go higher in the next 12 months, there could be even more gains on the way for IBUY shareholders.
According to FactSet, an unnamed brokerage firm projects the AMZN stock price will climb 28.93% to $1,275 in the next 12 months. Another unnamed brokerage firm also projects the BABA stock price will climb 28.41% to $200 per share in the next 12 months.
As for the EBAY stock price, Aegis Capital Corp. projects it will climb 19.18% in the next 12 months to $42 per share.
Want to Invest in Weed and Don't Know Where to Start? Well over half of the country already has marijuana legally available in some form. Eight states plus our nation's capital have made it completely legal to anyone over the age of 21. And the marijuana stock market is preparing to take off. Watch this short video and see whether jumping on this moon-bound stock rocket is right for you.