The Stitch Fix IPO is captivating investors who hope to profit from the innovative companies that are killing the brick-and-mortar retail industry. And we have five facts every investor should know before Stitch Fix goes public...
Stitch Fix is a clothing startup that's finding success in the dying retail industry through its innovative approach to online sales. Stitch Fix is a subscription service that ships hand-selected clothing to its customers on a monthly basis, and it's growing just as its retail competitors are closing.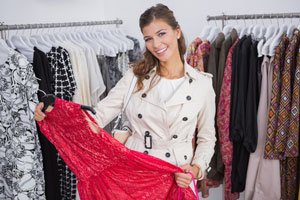 While brick-and-mortar retail stores are dying - Sports Authority had to file for bankruptcy and close 460 stores in 2016 - Stitch Fix recorded $730 million in revenue for its fiscal year ending July 2016.
And because the company could go public before the end of 2017, we have five important details Money Morning readers need to know ahead of the Stitch Fix IPO date.
The first detail is the company is nearing $1 billion in revenue just six years after launching in CEO Katrina Lake's apartment...
Stitch Fix IPO Fact No. 5: Stitch Fix Is Nearing $1 Billion in Revenue
One of the reasons Stitch Fix may be eyeing an IPO now is because it's closing in on $1 billion in annual sales.
Forbes estimated Stitch Fix generated $250 million in revenue in 2015. That number jumped to $730 million for its fiscal year ending in July 2016, according to a May 10 Recode report.
That's a 192% increase in revenue in just one year.
Lake hasn't said her company is waiting to reach $1 billion in sales, but hitting that total could help retail investors feel more comfortable about buying Stitch Fix stock.
NEW: Plot your course to a seven-figure weed windfall with the top pot stocks from every ecosystem - growers, edibles, dispensaries, and more. Read more...
Sign up for SMS so you never miss special events, exclusive offers, and weekly bonus trades.
Before the 2012 Facebook Inc. (Nasdaq:
FB
) IPO, the social media company reached $3.7 billion in sales and $1 billion in profit in 2011.
Stitch Fix should be on track to cross $1 billion, but its business model means sales are unpredictable...
Stitch Fix IPO Fact No. 4: Stitch Fix Has an Unpredictable Revenue Model
Because Stitch Fix relies on subscriptions, it will need to consistently retain or add new customers to grow its sales.
Unfortunately for Lake, other online subscription services haven't been faring well. For example, the June 29 Blue Apron Holdings Inc. (NYSE: APRN) IPO could cause some investors to be leery of buying stock in a subscription-based service.
Blue Apron had over a million customers at the end of the first quarter this year. But on Aug. 10, less than a month after its IPO, the meal service announced it had just 943,000 customers at the end of June, 57,000 fewer customers than it had at the end of Q1 2017.
That drop in customers nearly halved Blue Apron's stock price. Since opening on June 29 at $10 per share, the APRN stock price has fallen 45.5%, opening at $5.45 on Aug. 15.
But despite the risks in its business model, Stitch Fix is still seeking a lofty valuation...
Stitch Fix IPO Fact No. 3: Stitch Fix Is Seeking a Valuation Up to $4 Billion
Stitch Fix wants to be valued between $3 billion and $4 billion when it goes public, according to a July 31 Fortune report.
A $4 billion valuation would be double the $2 billion valuation Blue Apron sought, but it would be much less than the $19.5 billion to $22.2 billion valuation Snap Inc. (NYSE: SNAP) wanted before going public.
Ultimately, the valuation will be determined by what large investors like banks and hedge funds are willing to pay for Stitch Fix stock.
And that may not be as much as Lake is hoping for because of a key departure from the company...
Stitch Fix IPO Fact No. 2: COO Julie Bornstein Is Leaving
In July 2017, Stitch Fix announced COO Julie Bornstein was leaving the company, and the company hasn't said exactly why.
According to Recode, Bornstein is a widely respected e-commerce veteran, and she oversaw all of Stitch Fix's operations, marketing, and customer service teams.
The departure of such an important figure is notable before the company goes public. Investors want to be assured key management personnel are in it for the long haul, and the COO leaving before a public offering could scare away some retail and institutional investors.
Video
Julie Bornstein on Stitch Fix
Bornstein will officially step down in September, and we'll be keeping a close eye on who will take her place.
We want Money Morning to know all those details before the Stitch Fix IPO date. But the most important detail to know is about Stitch Fix's competitor...
No, it's not Trunk Club, but it's a company you've definitely heard of.
And it's the one company that could completely derail the long-term success of Stitch Fix.
Here's what you need to know about Stitch Fix's biggest competitor and whether we recommend owning Stitch Fix stock when it goes public...