World stock markets were mostly higher again Tuesday, on a further apparent de-escalation of the U.S. and North Korea stand-off regarding its nuclear missiles. North Korean news reports Tuesday said President Kim Jong Un has decided not to fire missiles at Guam. The U.S. secretary of defense and secretary of state, as well as other Trump administration officials, in recent days said they are trying to achieve denuclearization of North Korea through diplomacy. U.S. stock indexes are pointed toward higher openings when the New York day session begins.
The safe-haven assets gold and U.S. Treasury bonds are seeing price pressure from the better risk appetite in the world marketplace so far this week. Gold prices are down about $11.00 an ounce in pre-U.S.-session trading Tuesday.
However, don't expect the U.S.-North Korea confrontation to just fade away. It's likely this situation will flare up again, and likely sooner rather than later.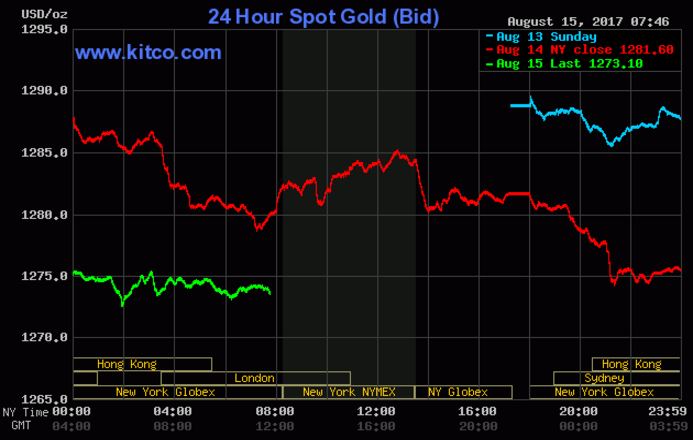 In other overnight news, the U.K. consumer price index was reported down 0.1% in July and up 2.6%, year-on-year. Those numbers were a bit less than expected and continue a general pattern of exceptionally low inflation data among the major world economies.
The U.S. dollar index is higher again in early U.S. trading Tuesday, after posting good gains Monday. Meantime, Nymex crude oil futures are slightly lower in early U.S. trading. Crude oil trading has also been choppy and sideways recently. Stiff overhead resistance at the $50.00 level is keeping the bulls in check, at present.
The key U.S. economic data point of the day Tuesday is the retail sales report for July. Sales are expected to come in at up 0.4% in July versus down 0.2% in June.
Other U.S. economic data due for release Tuesday includes the weekly Goldman Sachs and Johnson Redbook retail sales reports, import and export prices, the Empire State manufacturing survey, manufacturing and trade inventories, the NAHB housing market index and Treasury international capital data.
By Jim Wyckoff, contributing to Kitco News; jwyckoff@kitco.com