Friday was another down day in a relatively volatile week where not every dip was what it seemed.
We've only had 13 other trading days with a drop of 1% or bigger since February 2016.
But for us, that number isn't much of a surprise.
You already know that we've been in a grinding bull market since that early 2016 double bottom, excluding the minor pullbacks following the June 2016 Brexit vote and the October 2016 pre-election jitters.
Other than that, the story has gone like this: push up, enter a sideways box, push up, enter another sideways box…
Lather, rinse, and repeat…
The chart picture is striking, and I'm going to show it to you along with a chart that shows when we might have to start moving to a defensive posture.
We've Moved Through Five Boxes So Far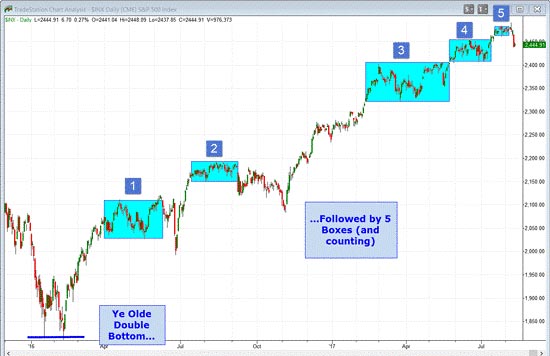 We already know that the boxes containing sideways – or "directionless" – price movements can be a challenging time for traders looking to catch a directional trade rather than playing the handful of stocks showing "extreme" behavior at an otherwise quiet time.
Quiet is relative, though. Thanks to our Hooke Pattern system, my Stealth Profits Trader readers have pulled in 53 triple-digit winners in this timeframe, and if you're playing the extremes, you've probably done well, too.
That's why I mentioned the stinkin' boxes in the first place.
Today, we'll use the boxes for something other than to shout about a "Do Nothing Market" with colorful language attached.
Because the big question is this: Does this renewed volatility, and all the geopolitical worry surrounding the bombastic leader of North Korea, mean we should do anything different with our portfolio or trading?
Strangely (and wonderfully), the answers lie within those infamous boxes.
Let me explain…
Here's How We Find Market Support and Resistance
Join the conversation. Click here to jump to comments…
About the Author
D.R. Barton, Jr., Technical Trading Specialist for Money Map Press, is a world-renowned authority on technical trading with 25 years of experience. He spent the first part of his career as a chemical engineer with DuPont. During this time, he researched and developed the trading secrets that led to his first successful research service. Thanks to the wealth he was able to create for himself and his followers, D.R. retired early to pursue his passion for investing and showing fellow investors how to build toward financial freedom.