Today, we've put together a ranking of the top pot penny stocks of 2017 for investors interested in the marijuana sector. Not only will we show you the top performers of the year, but we'll also show you how you can profit from the cannabis legalization set to grow Canada's marijuana market by 400% through 2021…
| | | |
| --- | --- | --- |
| Pot Penny Stock | Current Share Price | 2017 Return (as of Aug. 15) |
| Gala Global Inc. (OTCMKTS: GLAG) | $1.00 | +8,576% |
| Sprout Tiny Homes Inc. (OTCMKTS: STHI) | $1.05 | +5,150% |
| UMF Group Inc. (OTCMKTS: UMFG) | $0.09 | +3,500% |
| Amfil Technologies Inc. (OTCMKTS: AMFE) | $0.19 | +2,280.2% |
| Novo Integrated Sciences Inc. (OTCMKTS: NVOS) | $0.45 | +2,150% |
| Green Spirit Industries Inc. (OTCMKTS: GSRX) | $12.55 | +1,631% |
| THC Therapeutics Inc. (OTCMKTS: THCT) | $0.40 | +1,226.3% |
| Players Network (OTCMKTS: PNTV) | $0.10 | +611.9% |
| Praetorian Property Inc. (OTCMKTS: PRRE) | $1.28 | +365.4% |
| Dewmar International BMC Inc. (OTCMKTS: DEWM) | $0.01 | +340% |
Pot Profits: Forget Jeff Sessions! These Five Canadian Pot Stocks Are Set to Skyrocket. Click Here…
Seven of the 10 top marijuana stocks of 2017 have seen gains higher than 1,000%. As you can see, the leader is Gala Global Inc., which develops and sells cannabis-based wellness products. These include vape smoking modifications and thin-film cannabinoid strips that dissolve in the mouth.
GLAG stock surged 122%, from $0.45 to $1.00, on Aug. 9 alone after the firm's subsidiary, Controlled Environment Genomics Inc., announced it filed a patent with the U.S. Patent and Trademark Office (USPTO). The patent is for a genetically modified plant cloning technology used to develop cannabis-based pharmaceutical products.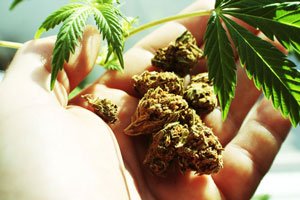 Gala Global and the rest of the marijuana penny stocks listed above all trade on over-the-counter (OTC) exchanges. These are less-regulated exchanges that are more decentralized than the bigger, SEC-monitored exchanges like the Nasdaq and NYSE.
While these 1,000%+ gains can be tempting, we don't advise investing in any of those top 10 pot stocks…
Because they trade over the counter, they're not required to submit financial documents to the SEC. This lack of transparency means they are very risky and can be extremely volatile.
For instance, GLAG stock climbed 72.7%, from $0.55 per share on July 31 to $0.95 on Aug. 7. But after that, shares plunged to $0.45 on Aug. 8. That's a 52.6% loss in just one day.
Still, not all OTC cannabis stocks are full of risks. In fact, Money Morning Director of Technology & Venture Capital Research Michael A. Robinson is dedicated to finding the safest – and most profitable – marijuana stocks for our readers.
He recently released a time-sensitive report providing Money Morning Members with the top five pot stocks to invest in right now. These companies are set to profit from Canada's nationwide legalization, which could pass on July 1, 2018.
According to Bloomberg, this could result in 400% sales growth across Canada's cannabis industry to a total of $4.5 billion through 2021.
Here's how you can get a piece of that action…
How to Profit from Pot Stocks and Canada's Legalization