It's been an uneasy few weeks for investors as leading technology stocks finally stumbled. Since peaking on July 27, the Nasdaq Composite has dropped 1.4%, while the Dow has climbed 1.3%.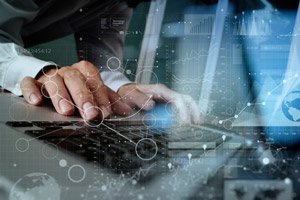 But instead of running from the tech sector, this pullback has actually created an even better entry point for the best tech stocks to buy in 2017.
The so-called "experts" jumped on this short-term pullback, declaring that the reign of these market leaders is coming to an end. But according to Money Morning Director of Technology & Venture Capital Research Michael Robinson, these "experts" could not be more wrong. He maintains the tech sector remains the best place in the market to grow your wealth in 2017. In fact, Robinson believes the companies listed below are providing "indispensable" products and services for billions of consumers.
As he has written here since 2013, Robinson is a firm believer that the road to wealth is paved by tech. Since the bull market began on March 9, 2009, the tech-heavy Nasdaq is up 346%. That's more than 50% better than the S&P 500's return over the same period.
And it's all because of the new "convergence economy" he has detailed for Money Morning Members many times. These days, every business is a tech business, meaning the sector will beat the overall market for years to come.
Certainly, no stock, sector, or market rises in a straight line forever, and sooner or later the market will lose steam. But to be sure, Robinson sees plenty of upside ahead through the end of 2017 for the following three tech stocks.
Here are three of the top tech stocks Robinson recommends now...
Tech Stocks to Buy in 2017, No. 1: SoftBank Group (OTCMKTS: SFTBF)
Robinson's first pick may not be a household name here in the United States, but it dominates the broadband and fixed-line telecoms industries in Japan. It has a large presence in that country's Internet, finance, and technology sectors. And by the way, it's also the world's 62nd largest company, according to Forbes.
The company is SoftBank Group Corp. (OTCMKTS: SFTBF), and the stock has more than doubled in price since the market began to rally in early 2016.
SoftBank is one of those under-the-radar, pick-and-shovel plays that can capitalize in many of the biggest trends here and abroad. It recently acquired the UK-based ARM Holdings Plc. (Nasdaq ADR: ARMH), a company that licenses the designs for chips that are now in 95% of all smartphones, for $32 billion.
SoftBank also purchased telecom upstart Sprint Corp. (NYSE: S) in 2013. And it is considering deals with other communications giants, including Charter Communications Inc. (Nasdaq: CHTR) and T-Mobile U.S. Inc. (Nasdaq: TMUS)
As if that were not enough, SoftBank and its Vision Fund are closing a $1 billion investment in online sports retail company Fanatics Inc., part of a sizable bet on the startup's licensing agreements with the National Football League.
And that's just the first tech stock that Robinson is currently recommending. Here's the second...
Tech Stocks to Buy in 2017, No. 2: Alphabet Inc. (Nasdaq: GOOGL)
The second pick is one of those tech leaders whose pullback made the pundits shudder. Let's get right to the point: Alphabet Inc. (Nasdaq: GOOGL) remains one of the best tech stocks to buy in 2017, and its recent fall back under the $1,000 per share mark is a buying opportunity.
Alphabet's virtues are well known. Their reach is global, and their products and services are deeply embedded into daily life.  From Internet products such as Search, Ads, Commerce, Maps, YouTube, Apps, Cloud, Android, Chrome, and Google Play, to hardware products such as Chromecast, Chromebooks, and Nexus, chances are you have daily contact with the company.
But now Robinson sees the company poised to profit from another area - real estate. And it could be worth as much as a 1,294% gain for Alphabet shareholders...
Right now, the real estate market in Silicon Valley, near San Francisco, is scorching hot. And anyone can get a piece of that action - if you invest in the right tech companies.
Consider what's happening in Sunnyvale, where Alphabet has spent a whopping $820 million on local tracts, according to data compiled by The Silicon Valley Business Journal. And the firm just struck a deal with San Jose, Silicon Valley's biggest city, for the purchase of 16 tracts of prime land near the convention center and pro hockey arena.
Why? Because the company is growing fast and needs the space. It will have offices spread out between San Francisco to the north and San Jose to the south, making Alphabet one of Silicon Valley's largest landlords.
How hot is the real estate market? Consider that about three months ago, someone shelled out $2.5 million for a 908-square-foot house considered to be a "teardown." And that was $638,000 over the asking price.
Why so much? The home lies just three blocks from Stanford University - the heart of Silicon Valley and therefore at the center of the convergence economy we talk so much about here.
This Is Creating Billionaires: This technology is projected to grow 63,000% and create $7 trillion in new wealth. Will you be able to capitalize on these windfall profits? Read more...
Just based on its past track record, Alphabet will go down as one of the greatest success stories of Silicon Valley. The firm's ability to make billions of dollars on something as basic as a search engine looks, in hindsight, to be almost too easy.
And now, the firm has been using its stunningly large cash balance to fuel new business fields, and each one of them could one day dwarf the firm's search unit.
Simply put, Alphabet is laying the foundation now for what will become the ultimate high-tech conglomerate.
And the third tech stock on our list today has begun investing in the legal marijuana market. It's an industry that was already worth $6.7 billion in North America in 2016 and is expected to hit $20 billion by 2020...
[mmpazkzone name="in-story" network="9794" site="307044" id="137008" type="4"]
Tech Stocks to Buy in 2017, No. 3: Microsoft Corp. (Nasdaq: MSFT)
Robinson's third pick may not be a surprise for investors, but the reason he likes it so much may be. Microsoft Corp. (Nasdaq: MSFT) is poised to be a major player in the burgeoning legal marijuana industry.
No, the company will not grow or sell weed, but its cloud computing capabilities make it a major infrastructure provider for legal marijuana companies around the country. Robinson believes that Microsoft's advanced cloud technology will be used heavily. And it will give investors a way to profit the industry without the speculative risk of a penny stock.
Robinson calls this the "Green Rush" due to its similarities to the legendary 1850s California Gold Rush. While plenty of miners struck their fortunes, many more did not. However, the folks who sold the prospectors the things (tools, clothes, food, housing) they needed to chase their dreams of gold riches found massive wealth themselves.
In fact, this is where we get the term "pick-and-shovel play."
In 2017, the profit potential in marijuana isn't much different from what it was in gold... except for the fact that there's exponentially more money to be made. And right now, the hottest profit trend isn't growing, or dispensing, or even in edibles, but in compliance.
The legal cannabis industry has voluntarily embraced some pretty stiff regulatory regimes, not only to satisfy opponents like weed "flat-earther" Jeff Sessions, our U.S. Attorney General, but also to ensure people are kept safe as they consume the product and to make sure everything is dealt aboveboard.
Regulation, in this case, is a boon for investors, because the regulations generate a very real need for other firms to come aboard and offer their expertise, by way of products and services, in a way that boosts bottom lines.
Many pot entrepreneurs lack the knowledge and experience necessary to comply with all state and local regulations, from employment and labor laws, to inventory control, and everything in between.
This is why Robinson loves Microsoft.
The company was quick to spot this opportunity and began to market its cloud-based services heavily to players in the sector, and it's beginning to pay off. Its Azure cloud service banked $6.7 billion in the most recent quarterly reports.
Microsoft Cloud Isn't Just for Weed
Microsoft's commercial cloud business is expected to grow another 32% to $20 billion in 2018, so clearly it is selling to more than just the weed industry.
Just what is the cloud? The simple definition is a network of servers, each with a different function. Some servers use computing power to run applications, such as Microsoft's Office 365, or to deliver a service, such as Microsoft's Azure platform, where developers can run their own applications. Other servers are responsible for storing data, such as Microsoft's OneDrive.
Businesses decide to "move to the cloud" for financial reasons. In the past, companies had to buy their own hardware equipment, which depreciated over time. But now with the cloud, companies only pay for what they use. It is also easy to scale operations up and down as needed.
That is why the cloud is so important. It helps companies save thousands of dollars a year, and it gives consumers access to their data and applications wherever they go. It also lets them upload their photos to Instagram, which is also in the cloud.
Microsoft just delivered a great quarter with across-the-board earnings that were 38% ahead of forecasts. Not to mention that net income more than doubled in the quarter. And unlike some of its tech juggernaut peers, the stock has already recovered the majority of what it lost during the July-August pullback.
That means now is the time to accumulate a bigger position.
Up Next: This Is Creating Billionaires
More millionaires and billionaires come out of technology than any other sector in the market.
And this is the fastest-moving technology we've ever seen. It's projected to grow 63,000% and create $7 trillion in new wealth.
Will you be able to capitalize on these windfall profits? Read more...
Follow Money Morning on Twitter @moneymorning, Facebook, and LinkedIn.