World stock markets were mostly higher again Wednesday. U.S. stock indexes are also pointed toward higher openings when the New York day session begins. Equities bulls are having a very good week so far, as there has been a perceived de-escalation in the U.S. and North Korea stand-off regarding its nuclear missiles.
Reports said the U.S. and South Korean militaries will hold joint exercises next week, which are likely to again rile up North Korean leader Kim Jong Un. The U.S.-North Korea matter is not going to go away any time soon. Any flare-up in tensions is likely to see another rush by investors and traders into gold and U.S. Treasuries.
Gold prices are lower again in pre-U.S.-session trading. The safe-haven metal is taking it on the chin this week amid the keener "risk-on" trading attitudes in the marketplace.
The focal point of the marketplace Wednesday will be the release of the minutes of the last Federal Open Market Committee (FOMC) meeting that was held in July. There are mixed ideas on what are the Fed's intentions. Fed Chair Janet Yellen said she would like to see interest rates rise more, but only gradually. However, recent very weak worldwide inflation reports play into the hands of those wanting the world's central banks to keep their easy-money policies in place.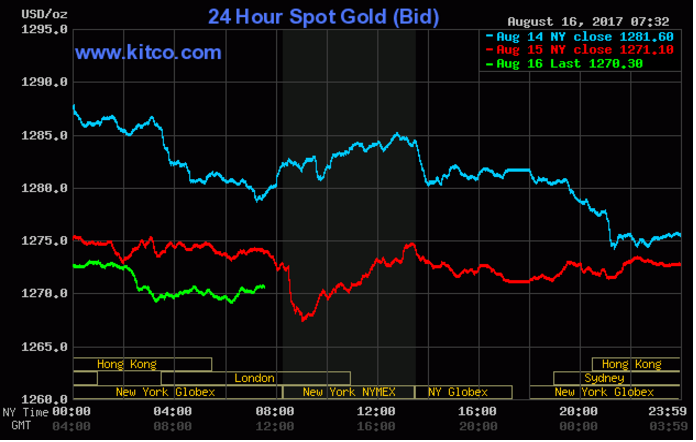 In overnight news, the Euro zone gross domestic product report showed second-quarter growth of 0.6% from the first quarter and was up 2.2%, year-on-year. Those numbers were close to market expectations.
The U.S. dollar index is higher again in early U.S. trading Wednesday and the greenback bulls are having a very good week. The index hit a three-week high on Tuesday. The stronger dollar this week is a negative for the precious metals markets. Meantime, Nymex crude oil futures are slightly higher in early U.S. trading Wednesday. Crude oil prices hit a three-week low Tuesday. Oil traders are now awaiting today's weekly DOE liquid energy stocks report.
Other U.S. economic data due for release Wednesday includes the weekly MBA mortgage applications survey, the weekly DOE liquid energy stock report, and new residential construction.
By Jim Wyckoff, contributing to Kitco News; jwyckoff@kitco.com