The marijuana industry is extremely profitable, but finding a "safe" pot stock is easier said than done. Still, the allure of investing in marijuana is undeniable, as legal sales reached $6.7 billion in North America in 2016 and are expected to climb to $20 billion by 2020.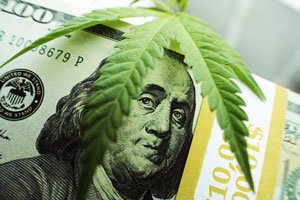 There's no such thing as a completely safe investment, but we have uncovered one of the best marijuana stocks to own for risk-averse investors. 
If you've owned it since 2013, you've already netted returns of 1,031%, and there could be more triple-digit gains ahead in the next 12 months...
The Price for This Safe Pot Stock Has Skyrocketed Over the Last Four Years
Most cannabis stocks are penny stocks that trade on over-the-counter (OTC) markets. OTC markets aren't regulated like major indexes, and penny stock prices can be extremely volatile. For example, one of the marijuana penny stocks we've followed, MassRoots Inc. (OTCMKTS: MSRT) has traded between $0.38 per share and $1.18 per share in the last 52 weeks.
But that's not the pot stock we're recommending today...
Eventually, stocks like MassRoots could skyrocket as more states legalize medical marijuana. Wall Street will view buying cannabis stocks as less taboo, and cannabis companies will be able to get loans from banks and more easily buy real estate for their operations.
This will help marijuana companies meet the requirements to trade on the New York Stock Exchange (NYSE) and the Nasdaq.
Until then, these pot penny stocks like MassRoots will remain very speculative investments. In the meantime, we're providing an investment for risk-averse investors in the legal cannabis market - one that has already climbed 1,031% since 2013.
If you missed out on those gains, that's okay.
Over the next 12 months, one brokerage firm expects this company's stock price to climb 103.28%.
This Is Creating Billionaires: This technology is projected to grow 63,000% and create $7 trillion in new wealth. Will you be able to capitalize on these windfall profits? Read more…
But to make that kind of profit, the best time to invest is now...
The "Safe" Pot Stock that Could Net Triple-Digit Gains in the Next 12 Months