(Kitco News) – World stock markets were mixed in overnight trading Thursday. U.S. stock indexes are pointed toward weaker openings when the New York day session begins. Still, equities bulls are having the better week. There has been a perceived de-escalation in the U.S. and North Korea stand-off regarding its nuclear missiles, which has boosted trader and investor risk appetites. However, this matter will likely be on the front burner of the marketplace soon.
Gold prices are moderately higher in the aftermath of Wednesday afternoon's FOMC minutes that showed FOMC members split of the prospects of further Federal Reserve interest rate increases in the coming months. Very low inflation readings from major economies around the world, including the U.S., are preventing the Fed from raising interest rates as soon as it would like.
In overnight news, the Euro zone consumer price index for July came in at down 0.5% from June and was up 1.3%, year-on-year. This is yet another very low inflation reading that falls into the camp of the European Central Bank monetary policy doves.
European traders were awaiting the release of the minutes of the latest European Central Bank meeting, due out shortly.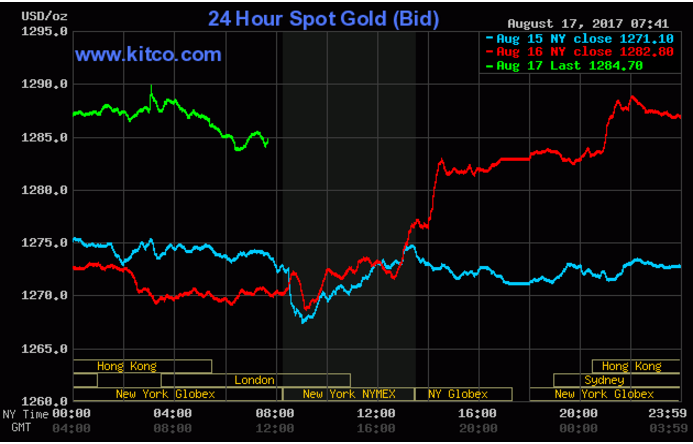 For the key "outside markets" early Thursday, the U.S. dollar index is higher as the greenback bulls are having a good week. A bullish weekly high close in the USDX on Friday would begin to suggest a market bottom is in place. Meantime, Nymex crude oil futures are slightly lower and hit another three-week low overnight. Rising U.S. shale production is weighing on the oil market late this week. A bearish weekly low close in Nymex crude oil futures on Friday would hint that the uptrend on the daily bar chart has ended.
U.S. economic data due for release Thursday includes the weekly jobless claims report, the Philadelphia Fed business survey, industrial production and capacity utilization and leading economic indicators.
By Jim Wyckoff, contributing to Kitco News; jwyckoff@kitco.com
Follow Jim Wyckoff @jimwyckoff for breaking news.