(Kitco News) – World stock markets were mostly lower in overnight trading. The U.S. stock indexes are pointed toward slightly higher openings when the New York day session begins. The marketplace is reacting with keener risk aversion to an ISIS terror attack in Barcelona, Spain Thursday, in which a van rain into a crowd and killed 13 people. A second attack in another town in Spain was thwarted by police, who killed five terrorists.
Gold prices are higher in pre-U.S. day session trading Friday and hit a 2.5-month high above $1,300 an ounce on some more safe-haven demand and technical buying.
Traders and investors are also pondering the future progress of the Trump administration's objectives. Many believe the administration is in turmoil.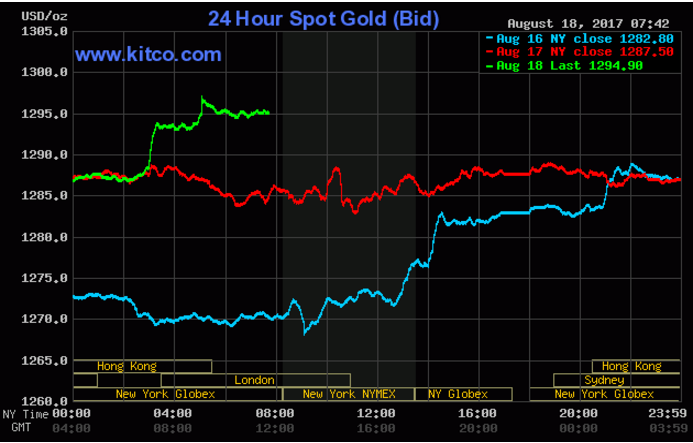 Trump's remarks this week on the racial protests in Virginia have alienated him from many U.S. Republican lawmakers. This matter could make the recent U.S. stock market rally at least pause, if not prompt more significant selling pressure heading into the historically turbulent months for the stock market: September and October.
The key "outside markets" early Friday see the U.S. dollar index modestly lower. However, the greenback bulls have had a good week. A bullish weekly high close in the USDX on Friday would begin to suggest a market bottom is in place. Meantime, Nymex crude oil futures are slightly higher after hitting a three-week low Thursday. Rising U.S. shale production has weighed on the oil market late this week. A bearish weekly low close in Nymex crude oil futures on Friday would hint that the uptrend on the daily bar chart has ended.
U.S. economic data due for release Friday is light and includes the University of Michigan consumer sentiment survey.
By Jim Wyckoff, contributing to Kitco News; jwyckoff@kitco.com
Follow Jim Wyckoff @jimwyckoff for breaking news.