(Kitco News) – World stock markets were mostly weaker overnight. U.S. stock indexes are pointing toward narrowly mixed openings when the New York day session begins.
Gold prices are up slightly after pushing to a multi-month high on Friday. Gold bulls remain in firm near-term technical control amid a steep price uptrend in place on the daily bar chart.
The highlight of the trading week will be the annual central bankers meeting held in Jackson Hole, Wyoming, Thursday through Saturday. Highlights of central bank speakers from around the world include Federal Reserve Chair Janet Yellen and European Central Bank President Mario Draghi. The marketplace will closely examine the Jackson Hole speeches for clues on future monetary policy moves by the world's major central banks. In recent years the Jackson Hole central bankers confab has significantly moved the markets.
The U.S.-North Korea stand-off regarding North Korea's nuclear missile program is still near the front burner of the marketplace. The U.S. and South Korea will hold joint military exercises this week, which could prompt an angry reaction from North Korea. This matter has prompted safe-haven moves into gold and U.S. Treasuries, and will likely continue to do so for the near term.
The Trump administration remains in turmoil, and that's also causing some nervousness in the markets, and is a bearish element for the U.S. stock market and bullish for safe-haven assets. The U.S. stock market has become wobbly during the dog days of August, partly on worries about Trump's ability to achieve his objectives amid such controversy. Trump economic advisors resigned last week and advisor Steve Bannon has been fired.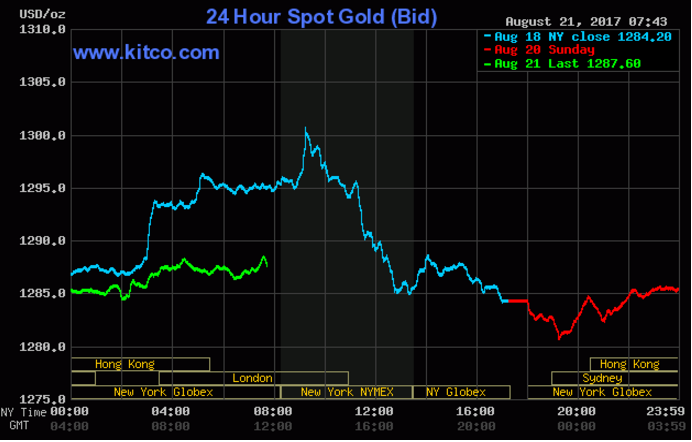 The world stock market weakness seen just recently could also be in anticipation of the historically stock-market- turbulent months of September and October being just around the corner. It's likely that stock market action and volatility will pick up after the U.S. Labor Day holiday in early September. That's when most U.S. traders' family vacations are over, their kids are back in school, and European traders will be back from their August vacations.
The key "outside markets" early Monday see the U.S. dollar index slightly higher. The greenback has been trending higher during the month of August. Meantime, Nymex crude oil futures are slightly higher after posting good gains on Friday. There is an OPEC technical meeting in Vienna, Austria today, to discuss compliance on crude oil production quotas among cartel members.
U.S. economic data due for release Monday is light and includes the Chicago Fed national activity index.
By Jim Wyckoff, contributing to Kitco News; jwyckoff@kitco.com
Follow Jim Wyckoff @jimwyckoff for breaking news.