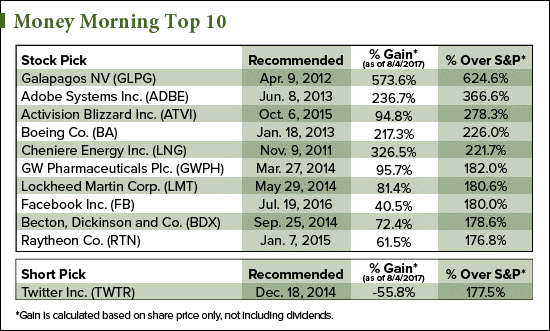 Our latest list of tech stock* movers of the week has more modest price moves than usual, but we still saw a couple gains of more than 20%.
Extreme Networks Inc. (Nasdaq: EXTR) led the winners of the week with a 23.8% gain thanks to a strong earnings report. The San Jose-based company reported earnings per share (EPS) of $0.17, beating estimates by $0.05. It was the best earnings quarter in the company's history, beating an earlier high of $0.14 in 2014. Revenue for the quarter, at $178.7 million, beat estimates by just under $7 million. Shares inched up from $8.63 to $9.32 on Monday in anticipation of the report, then jumped to $10.39 on Tuesday. The stock closed the week at $10.68.
Renren Inc. (NYSE: RENN) followed closely behind EXTR with a 22.7% jump, with unusually high trading volume. Nothing in particular jumps out as a catalyst, but the stock had been steadily declining for more than 10 months. RENN was as high as $12.82 last October, but it had fallen to just over $6 in July. Investors may be hoping to grab the Chinese social network service at a bargain. Shares closed the week at $8.23.
Urgent: An $80 billion cover-up? Feds use obscure loophole to threaten retirees... Read more...
Now, for last week's tech disappointments...
Veeco Instruments Inc. (Nasdaq: VECO) led the losers with an unusually mild 9.5% loss. The Plainview, N.Y.-based manufacturer has been in free fall since late July, when it was trading as high as $32.95. By Aug. 4, VECO was at $21.85, and it closed last week at $18.60. The stock is now down more than 35% on the year. Veeco put out a strong earnings report earlier this month, posting $0.15 EPS compared to estimates of $0.04. It was a major turnaround from a $0.19 loss a year earlier. One potential culprit for VECO shares tumbling is weak guidance for non-GAAP (generally accepted accounting principles) EPS.
Triumph Group Inc. (NYSE: TGI) was also down 9.5%. Last week, the Pennsylvania-based company announced that it had abandoned plans to sell its aircraft parts factory in Spokane, Wash. The local union had hoped a sale would bring new resources after the staff had been cut by about 75 employees since early 2016. But an acceptable buyer didn't emerge. The factory now employs about 600 workers. TGI closed the week at $25.80.
Tech Stocks to Watch This Week
Earnings season is winding down, but there are still a couple companies reporting this week that we're keeping an eye on...
Intuit Inc. (Nasdaq: INTU) reports on Tuesday, Aug. 22, after market close. Wall Street is expecting $0.17 EPS. INTU is up 18.4% so far in 2017.
VMWare Inc. (NYSE: VMW) reports on Thursday, Aug. 24, after close. Wall Street expects EPS to come in at $0.84. VMW is up 78.7% in 2017.
We'll keep you updated if there's anything you need to know to make money on these moves.
*Stocks have a primary listing on a U.S. exchange, a market cap greater than $1 billion, and are in either the Technology Services or Electronic Technology sector. Data and analytics provided by FactSet.
Turn a Small Stake into a Fortune: A new, earth-shattering government announcement could completely change the legalization of marijuana - forever. In fact, thanks to this historic legislation, tiny pot stocks trading for under $5 are getting set to double, triple, or quadruple. In an exclusive interview with Money Morning, pot stock expert Michael Robinson shares all the good news - including details on five tiny weed stocks that could potentially turn a small stake into $100,000. Click here to continue.
Follow Money Morning on Twitter @moneymorning, Facebook, and LinkedIn.
Join the conversation. Click here to jump to comments…
About the Author
Stephen Mack has been writing about economics and finance since 2011. He contributed material for the best-selling books Aftershock and The Aftershock Investor. He lives in Baltimore, Maryland.