A North Korean ICBM (intercontinental ballistic missile) could reach key U.S. targets in less than an hour.
These "targets" would be major American metropolitan areas – New York City, for example, or Los Angeles. Residents of these cities would have fewer than 60 minutes to prepare for a potential attack.
Here's a look at how these calculations were made…
The Distance a North Korean ICBM Travels Depends on Its Aim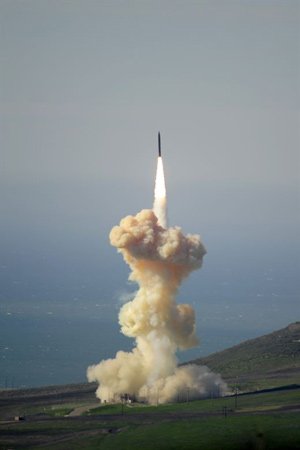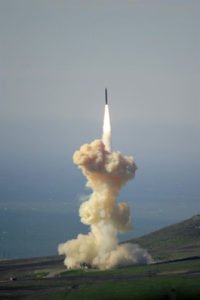 David Wright, a nationally known expert on the technical aspects of nuclear weapons policy, missile defense systems, and space weapons, was the first to calculate the "standard range" for North Korea's latest ICBM launch, which occurred on July 28.
You see, Pyongyang's launch that day had not been carried out at a "standard range." Rather, it had been an "elevated launch," meaning the missile was shot with the intention that it would arc high in the Earth's atmosphere and thus travel a shorter-than-average distance.
And arc it did, landing approximately 1,000 km (600 miles) from North Korea in the Sea of Japan – a common spot for such North Korean missile tests to land.
Had the missile been launched at a "standard trajectory," however, it would have traveled much farther…
Based on calculations from Pyongyang's July 28 test, Wright was able to configure that the missile's "standard trajectory" range would have been 10,400 km (6,500 miles) – a little more than 10 times the distance the ICBM had traveled at its elevated launch.
Must See: This small $6 U.S. defense firm with a new top-secret technology could help the Pentagon stop a Chinese sneak attack dead in its tracks. Read more…
Wright then devised a table that shows U.S. cities that are well within reach of a North Korea ICBM launched at a standard trajectory. He even accounted for the fact that the rotation of the Earth increases the range of missiles fired eastward.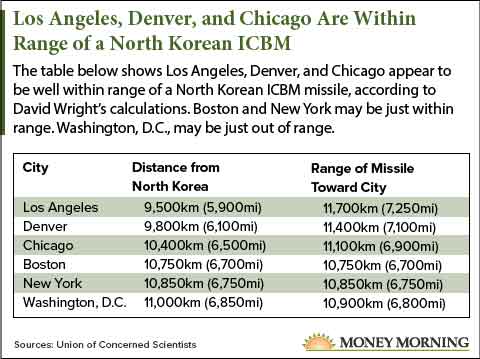 Business Insider took these distances a step further on Aug. 14. The publication asked Wright to additionally calculate the amount of time it would take a North Korean ICBM to actually reach these cities.
Here's what he found…
How Long Residents Will Have to Prepare
Here are the approximate preparation times Wright and BI came up with…
Anchorage: ~29 minutes.
Chicago: ~39:30 minutes
Guam: ~18:30 minutes
Los Angeles: ~38 minutes
New York City: ~40:30 minutes
Washington, D.C.: ~41 minutes
Wright explained that he came to these findings by calculating for the ICBM's speed over its distance traveled.
"The range of a ballistic missile is tied to its speed. It's just like throwing a ball; the faster you throw it at a given angle, the farther it will travel," he said, according to Business Insider.
Wright also added, however, that the burn-out velocity – or speed an ICBM reaches when it shuts off its engines in space – isn't known, among other variables.
And to this point, it's important to note that all of these calculations were based on what is publically known about Pyongyang's ICBM system.
Wright wrote in his blog post that he also does "not know the mass of the payload the missile carried on [the July 28] test. If it was lighter than the actual warhead the missile would carry, the ranges would be shorter than those estimated above."
So that presents another caveat to the above calculations.
One more monkey wrench for Wright: His calculations also assume a North Korean ICBM would thwart U.S. military defense systems – including the latest "kill vehicle" interceptors currently being made…
What the U.S. Military Calls "Kill Vehicle" Interceptors
"Kill vehicle" technology consists of interceptors that "kill" multiple incoming threats with a single shot.
That way, if North Korea fired off more than one ICBM – or one ICBM and a decoy – in an attempt to exhaust the U.S. grounds-based missile defense system (GMD), the military would still have a way to halt the missiles in their paths.
The Pentagon awarded a $58 million contract to Boeing Company (NYSE: BA) on May 23 to create these new interceptors.
This contract was another boon for Money Morning Executive Editor Bill Patalon and those who subscribe to his Private Briefing service…
That's because Bill first recommended Boeing in 2011, when the stock was trading at $61.92.
Now, Boeing is trading at $234.41.
That's a 279% gain.
Bill's Private Briefing portfolio has several other lucrative picks as well, including one company that's gained 49% since he first recommended it and is expected to add another 41% over the next 12 months. Click here to reap the rewards yourself…
Follow Money Morning on Twitter @moneymorning, Facebook, and LinkedIn.
Related Articles: