Snap Inc. (NYSE: SNAP) is about to pay $200 million to this little-known Chinese company, and it's all part of a plan to revolutionize how people share photos and videos...
According to an Aug. 2, 2017, report from TheInformation.com, Snapchat is in talks to acquire Zero Zero Robotics, a Beijing-based maker of "selfie drones."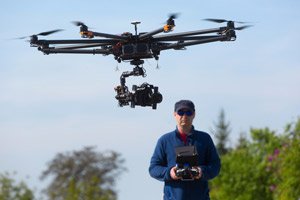 These selfie drones are foldable, and users can control them through iPhone and Android apps. The drones are light enough to hold and small enough to fit in a backpack.
But Snap's investment in drones shows just how big retail drone use will be in the next four years.
Global drone sales are expected to climb from roughly $8 billion in 2015 to $12 billion in 2021. That's a 50% increase in sales in just six years.
And drone stocks are now sitting on a potential $127 billion market, as social media companies race to control this new technology...
Drone Stock Prices Could Climb Thanks to Potential Snap Investment
Snapchat already has the software in place for users to share images and videos. But it also wants to control the hardware to create an ecosystem like Apple Inc. (Nasdaq: AAPL) and Amazon.com Inc. (Nasdaq: AMZN).
For example, Amazon sells its Kindle, and Kindle users can read e-books, play music, and watch movies on the device.
Apple Music subscribers can listen to music on their iPhones and buy Apple's Beats headphones.
Video
Is Snapchat Getting into the Drone Business?
Snapchat hopes they can create this same ecosystem with drones.
Through this strategy, Snapchat won't be at the mercy of other drone companies. If one particular drone company becomes the most popular for social media users to share pictures and videos, Facebook Inc. (Nasdaq: FB) could buy the company.
By owning the company, Facebook could forbid Snapchat from being used on that particular drone.
And that is a serious possibility...
You see, Facebook is already in the drone market. In 2014, Facebook bought a solar-powered drone company for $20 million. Although those drones are currently being tested to deliver Internet to remote parts of the world, Facebook could start building its own drones for consumer use.
That's why Snap is willing to pay over $200 million to create its own drone ecosystem.
But investors looking for ways to profit from this social media rivalry can find them in the already growing drone market.
Sources are saying there could be $127 billion in new wealth being created in the drone market as we speak.
Investing in Drones Will Be Like Investing in Smartphones in 2009: If you've thought of drones in military terms or just as toys, this is a wake-up call. Find out more.
And this is beyond anything Money Morning Executive Editor Bill Patalon could have imagined...
Financial Guru Bill Patalon Just Uncovered Your Next Profit Opportunity