As a service to Money Morning readers interested in the pharma sector, we ranked the top pharmaceutical penny stocks of August 2017 so far. But for investors looking for a stock with future growth potential instead of past returns, we'll also show you one of the best small-cap pharmaceutical stocks to buy for a potential 100.9% gain in one year...
| | | |
| --- | --- | --- |
| Pharmaceutical Penny Stock | Current Share Price | August 2017 Return (as of Aug. 22) |
| Tyme Technologies Inc. (Nasdaq: TYME) | $6.50 | +49.2% |
| Marinus Pharmaceuticals Inc. (Nasdaq: MRNS) | $2.75 | +47.1% |
| Chiasma Inc. (Nasdaq: CHMA) | $1.90 | +35.7% |
| Oncomed Pharmaceuticals Inc. (Nasdaq: OMED) | $4.27 | +31.8% |
| AVEO Pharmaceuticals Inc. (Nasdaq: AVEO) | $3.34 | +31% |
| BioLife Solutions Inc. (Nasdaq: BLFS) | $4.48 | +29.9% |
| PDL BioPharma Inc. (Nasdaq: PDLI) | $2.80 | +23.3% |
| Vascular Biogenics Ltd. (Nasdaq: VBLT) | $5.00 | +19% |
| Ophthotech Corp. (Nasdaq: OPHT) | $2.79 | +16.3% |
| Achillion Pharmaceuticals Inc. (Nasdaq: ACHN) | $4.65 | +13.4% |
Special Report: Cannabis Is the Gold Rush of the 21st Century - 30 Stocks to Invest in Now. Details here...
All of the pharmaceutical penny stocks above have outperformed the broader pharma market, showing how profitable penny stocks can be in a short period of time...
The NYSE Arca Pharmaceutical Index - which tracks heavyweights like Allergan Plc. (NYSE: AGN), Eli Lilly and Co. (NYSE: LLY), and Johnson & Johnson (NYSE: JNJ) - is down 3% in August. Meanwhile, the company with the smallest gain on the list - Achillion Pharmaceuticals Inc. - has climbed 13.4%, from $4.10 at the close of July 31 to $4.65 today (Tuesday, Aug. 22).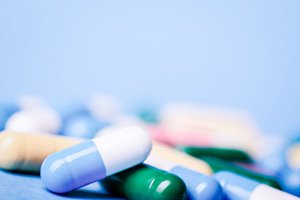 Despite the attractiveness of these penny stock gainers, we don't recommend buying any of them right now. The triple- and quadruple-digit rallies of those 10 pharma companies might mean their share prices have already peaked. This means they likely won't offer much more in returns for people who buy shares today.
Instead, our Money Morning experts are more interested in selecting stocks that are set for a stable, long-term rally. That's why Money Morning Executive Editor Bill Patalon is giving you one of the best small-cap stocks to own in the pharmaceutical sector right now.
You see, Bill is a finance and stock market expert with over 10 years of experience picking winning investments for Money Morning readers. One of his stock picks has handed investors a 479.3% return since he first recommended it on April 9, 2012.
While shares of Bill's pick today are slightly more expensive than your typical penny stock, they still trade for just under $9 a share. That means the stock is still affordable, and you could more than double your money in the next 12 months by owning it.
According to Thomson Reuters analysts surveyed by Yahoo Finance, this small-cap stock could soar as much as 100.9% over the next year.
One reason for that growth potential is its latest FDA-approved drug, which just hit the market on July 31...
This Pharmaceutical Small-Cap Stock Could Surge 100.9% by August 2018

[mmpazkzone name="in-story" network="9794" site="307044" id="137008" type="4"]
One of Bill's favorite stocks to buy right now is Insys Therapeutics Inc. (Nasdaq: INSY), an Arizona-based pharma company that primarily develops cancer-related treatments. One of its products is Subsys, an opioid spray used to treat cancer pain.
But its newest drug, Syndros, is one of the biggest reasons Bill likes INSY stock. Available for doctors to prescribe as of July 31, Syndros treats chemotherapy-induced nausea and vomiting (CINV), which affects 70-80% of the more than 15 million cancer patients in the United States.
The drug also treats anorexia stemming from weight loss in AIDS patients. According to data from the U.S. Centers for Disease Control and Prevention (CDC), there are 1.1 million U.S. citizens living with AIDS.
Sales of medicines that treat pain are expected to soar over the next seven years. Transparency Market Research says revenue from the pain treatment industry could rise to $83 billion in 2024 - up 38.3% from $60 billion two years ago.
And Syndros has another advantage over other drugs in the pain management market.
Subsys is an opioid-based product, but Bill says Syndros will boost INSY stock because it marks the company's entrance into the non-opioid market. With opioid addiction becoming a national epidemic, with opioid-related deaths increasing by over 25% last year alone, patients are looking for non-opioid pain treatment now more than ever.
Syndros is a safe substitute for opioid-based medicines because its main ingredient is a form of Delta-9-THC, which naturally occurs in marijuana. According to Bill, this presence in both the growing medical marijuana industry - where sales are expected to grow by 183% through 2020 - and the growing trend of reduced opioid use make INSY stock the perfect "war on pain" play.
"Insys has big upside because it's trying (and, so far, succeeding with flying colors) to work at the 'convergence' of those two powerful trends," Bill said on May 30.
Analysts are also bullish on INSY stock. Thomson Reuters analysts give it a high one-year price target of $18 per share. That means you could see a return of 100.9% - more than doubling your money - if you purchase shares at today's price of $8.96.
The Bottom Line: Pharmaceutical penny stocks have been crushing the broader pharma sector this year. After all, August's top performer is up 49.2% this month, while the NYSE Pharma Index is down 3%. But we still don't advise buying any of the top penny stocks on the list, as they trade at high prices and might not offer gains to those who buy in now. Instead, Bill recommends investing in INSY stock. At just $8.96 a share, you could more than double your investment in just 12 months thanks to the company's plays on the growing medical cannabis market and increasing trend of non-opioid medications.
The Best Pot Stocks: After nine months of exhaustive research, we've found the best, most lucrative, and fastest-growing legal pot stocks in America. They're all in our 89-page "bible of weed investing," The Roadmap to Marijuana Millions. And for a limited time you can get all the details for free. Go here to find out how to reserve your copy today...